Should be 100k
Retro video games are a hot collector's item: A rare, sealed copy of Super Mario Bros. for NES, which was released in 1985, just set a world record when it sold for $100,150 in a recent auction.
This mint-condition copy of Super Mario Bros., which was sold by U.S.-based Heritage Auctions, was the first-ever video game to fetch a six-figure mark for a vintage video game sale, USGamer reported.
From 1985 to 1994, Nintendo reprinted Super Mario Bros., however the first two variations are sticker-sealed copies that were only buyable in Los Angeles and New York during the test market launch of NES. This unique copy of Super Mario Bros. is the only known sticker-sealed copy, and it was granted a Near Mint grade of 9.4 and a "Seal Rating" of A++ by Wata Games, a grading video game company. So basically, it was in incredibly good condition when it reached the auction block.
On Feb. 6, a group of collectors purchased the game, including Jim Halperin, founder and co-chairman of Heritage Auctions of Dallas, Zac Gieg, owner of Just Press Play Video Games in Lancaster, Pennsylvania, and Rich Lecce, pioneering video game collector, and owner of Robert B. Lecce Numismatist Inc of Boca Raton, Florida.
"Super Mario Bros. is not only the most recognizable game of all time, it saved the video game industry in 1985," Deniz Kahn, Wata Games' president, said in the Heritage Auctions press release. "In terms of rarity, popularity, and relevance to collectors, this game has it all. Mario is the most recognized fictional or non-fictional character in the world, more so than even Mickey Mouse."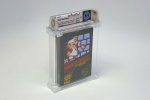 Sent from my SM-G950U using
Freedom Card Board mobile app
Last edited: