One of the many stories floating around in the autograph world is that Garvey refuses to sign this card. The version I heard is that he signed ONE copy for someone and that was going to be it. I would love to hear the story directly from him, but I don't know if it has ever been asked of him or if he would even answer the question. If anyone ever gets the change to meet him and you can remember, maybe shoot this question by him and see what he says.
Anyway, this card popped up for sale recently, by PWCC. The card is graded by PSA. I am not familiar with all of their various holders and labels, but I assume that this means they have deemed the autograph authentic.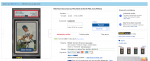 Now I recognized this exact card and remember talking about it some time back. I have been in the habit of saving scans and trying my best to name them appopriately and to file them so that I can find them if I need to. This was one example of my success. I found a scan dated 2015 with this same card. It had sold on ebay, also apparently by PWCC at the time and it went for ridiculous money. Several hundred dollars is what I recall, possibly $500+. I also record sales of Garvey related items, but this is all done by hand on sheets of paper and it is chronological. However, I have 100s of these sheets and have not kept them in order. That later sheets have a general date range on top of one side, but I don't think I started doing that from the start. My point is, I recorded this exact sale, but I would not be able to quickly find it at this time. One of my many "to do" projects is to get this hand scribed list into an electronic spreadsheet so that it is searchable.
Anyway, here are the two scans. first 2015 and then 2020. Notice there is a change to the label? The new offering now has "Auto 0" under authentic. I don't know what this means, but it was apparently reholdered or relabeled or both. The serial number is the same, either way.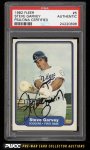 So what, you say? Well, I own a lot of Steve Garvey autographs. Many are certified, pack issued cards, many are just IP/TTM versions of various vintages. His autograph did change over time. You can really tell an early version, say about 1974 or earlier. Then they were very consistent and very artistic, like the Sweet Spot below, but better. It seems by retirement, they were getting sloppier (I saw a lot of what look like hurried IP or TTM autos that appear hurried, signed along the side of the card, upside down and other weirdness to them, like the 81 F Hits card below. Sometimes the auto was bunched up and hard to read) and now with the rut of certified cards issue in the last decade, it is still reminiscent of the late 70s/80s glory, but more rushed. I don't consider myself a handwriting expert or a signature expert by any means. Although I have owned 1000s of Garvey autographs, I would not even call myself an expert with his signature. I believe with near perfect certainty, that this 1982 Fleer card, the one that people claim is essentially impossible to get, it not his signature. This looks nothing like any signature I have ever seen by Garvey. I even have a couple of these unicorn 82 Fleer cards signed and I am unsure about their authenticity, mainly because of how seldom you see them and of course, the back story floating around. I don't love either one all that much, and would still question both under normal circumstances. I would take my best copy (left side in blue sharpie would be my choice for best chance at being authentic, between the two) over this graded one though, any day! This PWCC autograph makes me want to hurl.
What do you think? Am I wrong? Dare I question the mighty PSA? How does a signature vary that much and still have enough people paying top dollar...is it a combo of PSA & PWCC (remember this 2015 sale was before all the controversy)/. This one has me baffled and I think it is a matter of people buying the reputation (PSA/PWCC) and not the item, kind of like you hear graded collectors all the time, buy the card not the grade.
Here are a variety of certified and IP/TTM autographs, which I believe all to be authentic for comparison: