Any experts out there on these parallels? The card was only available for Griffey and Piazza and came in three parallels, /100, /50 and /10.
My confusion is the statement at Baseballcardpedia.com that all three of the parellels are hand numbered. This seems to be true with the Piazza. With the Griffey there are cards that are not serial numbered at all, /100 that are printed with serial numbers and then /50 and /10 in hand writing.
Why does there seem to be three theories for the /100 Griffey? Non-serial numbered, hand serial numered (which I've never seen, but per baseballcardpedia is the only version) and printed serial numbered. This would also beg, is there any guarantee that there are only /100 for the base parallel?
No Serial Number



Printed Serial Number /100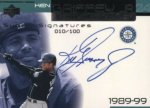 Hand Written /50, /10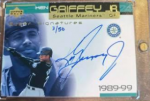 (I can't help but notice that this sign looks faked, btw. The "G" and the "Jr" look off)