Got the Big box via Target. This stuff is fun to break, if you like the colors, inserts, theme packs, etc. I really don't care about the lack of logos, which seems to be the only knock against Panini. Their insert designs are so good and well executed.
Base Prizm: Kyle Tucker
Base Mosaic: Vlad SR, Albies
All-Time Greats Piazza, Ryan, McCovey, Griffey Jr. Prizm
Two bonus packs of Yellow Mosaics Kershaw, Harper, Kirilloff, Devers, M. Kelley, J Wendle, Gallo, E Gonzalez, K Gausman, Z McKinstry, Z Gallen, Verlander, C Burnes, N Cruz, Y Mercedes, T Davidson
Hot Shots: Lindor, Mosaic Lindor
Will To Win: Ohtani
Big Fly: Springer, Goldschmidt Mosaic
Aces: Cole, Cole Mosaic, Nola Green Mosaic (not numbered)
Debuts: Pearson, White, Cronenworth Mosaic #99/99

Scripts: Estevan Florial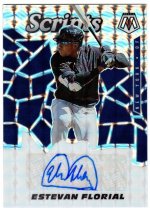 Great looking inserts, meh autograph (but he's a Yankee, I know.) The bonus pack yellow Mosaics really pop, and the Hot Sauce is my favorite from these.