Is anyone happy with COMC (
Clearly Oblivious to My Customers
) at this time? I have to wonder how sellers are being treated right now. Since it is all about getting paid, I suspect that this service is not being affected because it probably doesn't require much intervention by a staff member. I'd guess if anything, slowness in getting new items scanned and listed could be one negative result, but as this gets COMC more revenue, I'm sure that is priority one over shipping out cards that have already made them their commission.
From a buyer standpoint, I am to the point where I am ready to look into legal matters. This may just be my frustration boiling over, and perhaps the reality of legal action against this company is a fantasy, but they have suspended phone service, ignore emails and are not shipping items owed to customers, at least not my order. The dates for getting new shipments out other than some sort of overpriced priority service level has now exceeded 4 months wait time, IF THEY EVEN BOTHER SHIP ON TIME!
COMC is completely ridiculous right now. I would encourage anyone/everyone to boycott them! Rewards of any kind for this type of behavior is just going to make it harder in the future to receive any level of customer service.
To recap my story, I requested a shipment on 12/3/20. Knowing full well that Covid had affected most businesses, plus the post Black Monday sale is always a reason to delay a shipment. Over the years, you can see the delay around that time of year vs any other time. Shocking, but my estimated delivery date was 3/9/21. 3+ months I was going to have to wait for my cards to arrive. Oh well, what could I do, right? Every other order I had ever made with them in the prior 10 years shipped on the date they estimated.
By 3/9/21, I was anxious to see that "shipped" notification. When I didn't after a couple of days, I emailed customer service. They apologized, credited my s/h fee and said the new ship date was 4/13/21. That would be the first and only time they responded to any of my numerous emails to the time of this comment. Not happy at all about that, but again, what can i do about it. They are holding my cards hostage. They have my money and there is nothing I can seemingly do about until until they are good and ready to send the cards.
Yes, you guessed it. 4/13 was Tuesday and now another "estimated" ship date has come and gone and my order is still showing unprocessed as of today.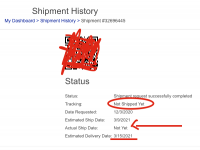 The complete lack of customer service is mind blowing. This company went from being a favorite of mine to being utterly hated. With 23 shipments made over the previous 10 years, equaling close to $5K, I can assume I am not a high roller, but that is not chump change either. I guess they don't like my money any longer. I really don't see myself ever using them again. I have 3 cards in my port that I was hoping they would ship with the rest, as a show of goodwill for the absolute screw job on the current shipment. I'll probably need to abandon those for good or my option is to pay them $5 and wait 4+ months to get those 3 cards, when they have not shipped my current order yet. F THESE GUYS!
I am sorry if you are a seller, although if the bump in hobby interest is helping you sell more through COMC, good for you. I feel more sorry for the buyers of those cards though. They are being treated like shit right now. I really hope that COMC feels enough pain from this lesson that it will affect their bottom line and future business.
This is how you lose a long time customer and former cheerleader for their services!