Big day today. It's the last of the 2005 cards. Wow, that was a lot!
2005 Upper Deck Trilogy or Trilo3y or whatever dumb thing they are trying to pull. Six total autos from this set, I have four of them. Generations Signature first. For singles, Wright is in the Generations Present Signature, of which there's a; Silver /99, Bronze /35, and a Gold /10. Missing the Gold below. There are also two Triples from Generations of Signatures Triple. One with Mike Schmidt and Adrian Beltre (see blelow) and the other is with Craig Nettles and Adrian Beltre, which I am missing. Both are numbered /35.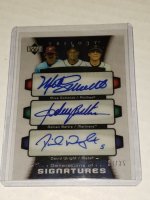 Last one is a Signature Materials Dual (meaning dual jersey and bat....only one auto). It is #'d /75.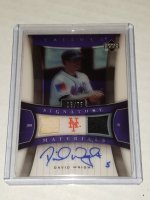 Final set with an autograph is 2005 Zenith. Just one Z-Graphs auto, which is numbered /100.