I suspect that most collectors really have no issues collecting beyond their "Home Team". Unless you are specific and exclusive to a single team, for example, you might not actively even seek something from another team. However, if you had no personal restrictions otherwise and the right item caught your eye, would you still buy it if it featured a rival? With the wide variety of players and teams to choose from over the years, along with the plethora of brands and issue types, it is almost harder to believe that anyone would not cross "boundaries" to collect. This topic came to mind for me recently for a couple of reasons.
Personally, I collect a wide variety of things. Always have. I have never focused on any narrow subjects exclusively and have always been willing to consider anything that catches my eye. My team has almost always been the Dodgers though. I have followed them over the years, but have never, nor would I ever condone the feverish and hostile rivalry attitude some people take when it comes to "their" team. I think it is downright ridiculous that people are insulted and/or assaulted over simply rooting for or wearing clothes featuring a rival team. That should never happen, ever! More ridiculous are those who have and exhibit that attitude toward others. Alcohol fuels this often, but even sober you see idiots harassing people over such petty things. A fan should never have to worry about or feel unsafe at an event or for supporting or rooting for a team, anywhere.
The Dodgers and Giants have always had a rivalry between them. Born when both teams played in the National League in NY (as well as including the Yanks over in the AL), that rivalry actually moved across the country in 1958 when both teams moved at the same time from NY to California. The friendly NL rivalry continues, but a nastier uglier one seems to build more and more as the years pass. One that puts fans in hospitals over fights and such. It reminds me of an on field incident that occured in 1965 between the Giants and Dodgers, but more specifically between Juan Marichal and John Roseboro. Marichal would actually eventually end his career in LA playing briefly for the Dodgers in 1975. In fact, two of his new teammates were even members of the 1965 Dodgers team and still active a decade later, Jim brewer and Willie Crawford.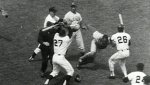 I have been watching Marichal listings on ebay for the last couple of months now for a project I am working on. I have always been intrigued by him. He was a good player and a Hall of Famer. His 1974 Topps card will always be locked into my brain as one of the cooler shots captured on a baseball card. I only wish it was a 1976 card with him in a Dodger uniform. That high leg kick was something else. Unless a card maker comes up with one in the future, Marichal does not and probably never will have a certified card featuring him with the Dodgers. He only played 2 games that year before retiring. My goal then was to find a nice certified autograph card that was as neutral as possible to add to my Dodger collection until such time as a Dodger card became available.
A week or so ago, I spotted a neat quad card featuring Marichal, as well as Gaylord Perry, Monte Irvin and Willie McCovey. The card was from 2005 and was two sided, which hurts the astetics a bit, as you can't see both sides at once, but it was still a cool card all the same. I decided to try to win it. Now I collect autographs of just about anyone who was good and have all 4 of these players already on separate cards, but this card was too cool to pass up. Being a Dodger fan, this is one of those cards that might turn a diehard fan away. Who wants a powerhouse card like like featuring players from your biggest rival anyway? I planned my final bid and discovered this evening that it held up and I was the new owner of this pretty damn cool card. I always prefer Dodgers and a quad like that featuring similar Dodgers would be equally, if not more epic for me, but this card checked all the boxes for me and now it is mine.
So, wandering back to my initial thought. Are there people out there who would absolutely despise owning a card like this simply because it featured a hated rival? PS - I will say that if I were as big a Giants fan as I was a Dodgers fan, I would be disappointed that a Dodgers fan won the card but would not hold it against them.
Last edited: