Got the last card I needed today, so thought I'd share the run with everyone. I think....hopefully...that I have them all, even included the OPC (still need '71) and Venezuelans (still need 60/64/67). Those non-USA ones are so few and far between that I'll just add those when I can, since I don't know when the next one will pop up for sale.
A little back story for why Banks. I have been a huge Cub fan for 35 years. I've met him a couple of different times before he passed and he was truly an amazing human being. He would take the time to talk to every single fan he could. During one signing, when it was my turn, he talked to me for about 5 minutes about my job...while the couple of hundred people behind me waited for their turn. He just was dumbfounded (in a good way) that I am a stay-at-home dad and took care of the kids without the help of a nanny while my wife worked all day. While I was telling him about it, he said "wait a minute, I want to stand up and shake your hand young man." But that's just who he was, he wanted to treat you like a friend. When he was done, he signed my ball and even added 2 inscriptions for free without me asking...HOF'77 and Mr Cub. For those of you who have been to a signing, especially a paid one, you know that inscriptions usually don't get added for free....let alone 2 inscriptions.
I also have these two 8x10's I got at other signings.
I started out buying his rookie card about 6-8 years ago. I had maybe another one or two cards of his when I had that experience I mentioned above but wasn't actively trying to get as many as I could. I decided that I've already got the most expensive one out of the way, why not try for all the others. As you can see, I tried going for nice looking mid-grade examples...especially the older ones.
1954 Topps PSA 4 RC
1955 Bowman PSA 4
1955 Topps PSA 5
1956 Topps Grey Back PSA 4
1956 Topps White Back PSA 5
1957 Topps PSA 4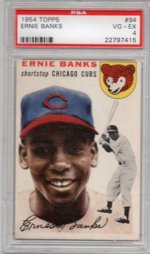 Last edited: