Active member
Administrator
Hanes and UD teamed up for a Jordan 30th anniversary fleer 50 card set broken in half by blue pack in the underwear and red pack in the tshirts.
Red and blue foil parallels
Allstar insets with gold foil parallels
1:108,000 pack chance at a Jordan auto. Lol
I bought out my target tonight. Most of the stuff is small or medium so I'm donating it all.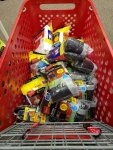 Sent from my SM-G965U using
Freedom Card Board mobile app