I think his 1998 Donruss Signature Significant Signatures is probably his nicest looking certified card.
I think Catfish had four certified autos made before he passed away? I have three of them: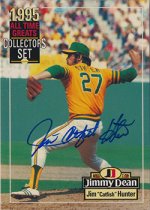 The other one was a Nabisco card airbrushed much like the Jimmy Dean one above, showing him with the Yankees. So it's a good thing he did have one nice auto in the 1998 Donruss Signature set. Though I guess it's bad for Yankees fans. For a HOFer with so few to choose from, his certified autographs are pretty affordable. Probably because overall his signature is not at all difficult to find.
Oh, I got a couple more cards in: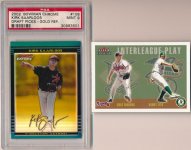 Kirk Saarloos pitched for the A's for a little bit and I liked him then, so the 2002 Bowman Chrome Draft Gold Refractor has been on my wantlist for a while. I'm still missing several A's Gold Refractors from the 2002 regular and Draft sets, they very rarely pop up at this point. There was one that finally showed up last month that I really really wanted so I threw down a ridiculous bid in order to win it for sure...and somebody outbid me! Also shown: 2003 Fleer Tradition Update Glossy Maddux/Zito 086/100. I've made great progress on this set, that was the last A's card I needed from the Update set and I only need one more from the regular set - David Justice of course.