The moment you all have been waiting for. Well, at least the moment I have been waiting for...My "white whale" was harpooned after many years of searching. More on that at the end.
First up, a cool 8x10 photo that may be a promotional appearance item. It's got his name and Union 76 printed on it. It is newer, I believe. Definitely not vintage, for sure. Never seen one before, but that is not uncommon with those event only photos that so many signings seem to have. Seriously, where the hell do all these photos go? Nobody sells any???
I grabbed a pair of Grant Dayton minor league cards. I wouldn't mind his Heritage card, but really don't want to spend $`10 for one. I have seen multiple sellers offering that card over the last year+, always at $10. Dayton's time with the Dodgers was brief. The Dodgers traded Chris Reed to the Marlins for Dayton in 2015. He made his MLB debut in 2016 and got into 25 games for the team that year. He was 0-1 in 26 IP, but had a nice 2.05 ERA. The next year was not quite as good. In 29 games and 23 IP, he was 1-1 with a 4.94 ERA. The Braves claimed him off waivers in 2017 and he spent the 2018 season in the minors. Since 2019, he has had similar exposure for the Braves, going 2-2 in 32 games played (39 IP), although his ERA was around 2.54.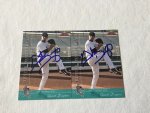 Last, but not least is my most exciting pick up in quite a while, although it will appear fairly pedestrian for most who will see this. A little background. In 1974, TCMA issued a 40 card set commemorating the 1952 Brooklyn Dodgers. The cards are a little larger than a standard trading card, which might hurt the collectibility a bit, but then again, it's the Dodgers! The team (and set) was loaded with future stars and a few Hall of Famers, including Robinson, Campy , Reese and Snider. Here is what they look like if you are not familiar:
It was a 40 card set that was done in black and white. There are a few print variations, including a blue tint, I have seen some with red ink, etc. It was TCMA after all. There is a "team" or header card that features the infield and then 39 individual player/coach cards. A couple of the subjects died before the set was released, therefore signed cards of those individuals are impossible.
Chuck Dressen died at age 71 during the 1966 baseball season, while actively managing the Detroit Tigers. Long time coach and later scout Jake Pitler died in 1968 at the age of 73. Both Jackie Robinson and Gil Hodges died of heart attacks in 1972, Hodges also was actively managing at the time, like Dressen. Hodges was in Spring Training for the Mets and died after finishing up a round of golf with some of the Mets coaching staff. He was 47. Jackie died a few months later, at age 53.
Besides those 4 individuals, the header card features multiple players, several of which could not have signed. One could obtain a header card signed by either or both Pee Wee Reese and Billy Cox, or another person associated with the team, but otherwise the header card does not count. The 6th "impossible" card would be Roy Campanella. Sure, someone might have been able to get his post-accident scribble at one of his signings and before his death in 1993 at the age of 71, but realistically, this card is not possible.
That left 34 cards that could have been signed and I began a quest to complete the set some years back, after owning a copy of this set since I was a kid (and then many more copies later). i don't recall who was first, but most of the players lived for quite some time after the set was issued and many were prolific signers. I was convinced the toughest card would be Billy Cox, who was a well loved, but mostly obscure third baseman, who died at age 58 in 1978, just 4 years after this set was made. Oddly enough, I was able to locate Cox, although he was probably the most expensive card to buy, he was not the last. The other toughie i struggled with and felt I might not find was Clarence "Bud" Podbielan, a journeyman pitcher who only pitched 3 games for the 1952 team before being traded away in June to the Reds. Podbielan died in 1982, also age 58. However, I was able to secure a Podbielan as well. Eventually, I found myself down to the last card and I figured I had the set in the bag. I only needed Billy Loes, who was still alive at the time I started this set. Loes died in 2010 at the age of 80. I don't think he was my last piece of the puzzle at the time of his death, but any time a player dies and you are looking for a specific card, it makes it next level tough. Loes autographs are out there and I don't believe he was ever considered a tough signature, but i could not find this TCMA card signed by him. I do not recall how long this card has eluded me, but I suspect it has been at least 5 years. maybe more.
I have had a Loes TCMA search set on ebay for a while and every once in a while, it pops up something. Usually, the Stars of the 50s set or this card, but until recently, it was never the elusive signed copy of the right card. That is until last week! I checked my searches and there was a new Loes hit. I opened it and saw that it was THE card, a signed TCMA Loes. My first thought was great, but what if I lose it? Well, after seeing it, I discovered it was a buy it now!!! I can't really tell you how much I would have been willing to pay for this. I am reasonable, even though it was the final piece and I had been looking for a long time. Thankfully, this seller has listed this card at what I felt was a very reasonable price of $13.99
For Sale: Billy Loes Of The Brooklyn Dodgers Autographed 1974 TCMA Card.
As anyone in my shoes can attest to, I could not hit that BIN button fast enough and get this item paid for. Waiting for specific packages in the Covid era had added a new twist to things, but this gem arrived today safe and sound and will mow reside with the rest of his brothers where he belongs. I finally have what i consider to be a complete signed 1974 TCMA 1952 Brooklyn Dodgers set!
May I present the elusive Mr. Loes!