Following a small mail day, comes a large one. Back to some lower numbered ink too...
Garvey /10.
Beaty /10.
Price /25.
Jones /31.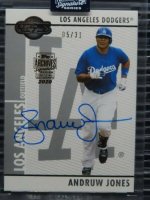 One more Heritage real one that I had the red, but not the base...Harkness.
Closing it out with a Zac Rosscup auto. I had his signature, but on a photo only. I don't like to do that, but I had no other choice at the time to get a bargain signature. Happy to have a card now and since I am not aware of a Dodger card, this is probably as good as it gets for me.
He is one of the way too many short time Dodger pitchers of late. Rosscup managed to last a part of 2 seasons with LA, between 2018-19. Selected off waivers from the Rockies in July 2018, he played 11 innings in 17 games and was 0-1. The Dodgers released him after the 2018 season ended. Almost a year later, apparently regretting their decision to release him, they signed him as a free agent. He pitched 3 innings in 7 games before the Cardinals bought him in late July. He's back with the Rockies this season.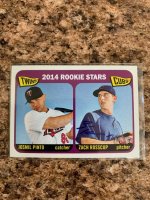 As I ponder the future of my collection, I still love getting little nuggets like Rosscup, but wonder just how many of these little nuggets only meant something to me. It seems that people selling autographs of scrubs these days want a lot, especially if the player had just made a debut. One of the Dodger's newly debuted players this season had no autographs on ebay, but no longer after he made his debut, 1 showed up for $100! Seriously??? I was not a buyer and still need that player, but if I had bought one for whatever cost I deemed reasonable, I bet I'd struggle to get $3 for it now if I was tring to sell! This is a hobby of passion for me and I collect what I like, I just wish it didn't cost me so much money at the same time!