Had a few uneventful days, went a few days w/o time to post, so this is almost a weeks worth to catch up on.
I've had better weeks!
Ishii.
Bunning /35. Would be epic to see a Dodger certified! Holding out hope....
Another quad Dodgers GU card, this one /100. These were never easy, even when they were new. maybe lots hiding in collections or still in unopened product?
Always appreciate a clean Twinkee card...I think this might even be an upgrade for me!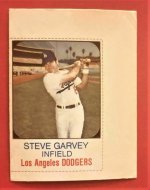 Bob Pettit.
Finally, unlike the recent Largent from the same set, this card is hand numbered on back. Griese. Not sure if anyone else is in the set. I like the very old school autograph issues better than the new, fancy, shiny, low numbered issues of today.