I tossed out a low bid and ended up winning it. It's ugly, but I like it.
This Snider is pretty nice. My first SportKings.
A few minor league cards, lead by former Dodger Rocky Bridges.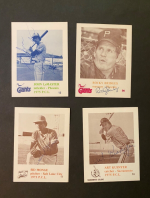 A couple GU cards, including a nice booklet 3X.
Murphy's Law. I had been watching a seller with one of these for probably over a year. not once did he ever adjust the price. No offers. I think I may have even reached out and said it would be sold at $X and either got no reply or a no. One lists at auction and I win it at the opening big. What do you want to bet a few more will show up now? Odd issue by the Padres. Not sure why he is included, but it is kind of cool.
Finally, a fun lot of Dodger marketing material/paperwork. I like this stuff if it's in the 60s-80s, mainly, because older would be less affordable, plus it's heart of Garvey era.