Garvey leads the charge today, an early-mid 70s team issue type photo with vintage signature.
Ron Cey.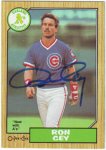 Jim Gott, pitched 1990-94 with the Dodgers. Compiled a 19-22 record and 38 saves in that time frame, 25 of which came during the 93 season. Free agency brought him to and then away from LA. He ended his career in Pittsburgh in 1995.
Sean Maloney, pitched in 11 games with the 1998 Dodgers, going 0-1, which followed the 3 games he pitched for the 1997 Brewers. That was the extent of his big league career.
This is the first signed card I had seen from Maloney, until checking recently to find someone had listed 4-5 of his cards at around $15 each. I got this one right before seeing the others for a bargain price of $2! While searching for info on Maloney a while back, thinking I was going to need to track him down for a possible TTM deal since his signature seemed to be non-existent, I found two things. 1). He has the same name as a politician, which made it harder to find info about him. 2). Sadly, he lost his wife of 16 years in 2014, when she was just 43. She left behind 4 young kids. I'm guessing that didn't give him a lot of time to do baseball stuff, possibly why his autograph just isn't out there. That and a very brief, uneventful MLB career.