Pretty hefty batch today (53 Dodgers signatures), mostly because of a stack of 3x5s. I'll do those separately.
Starting with the certified cards, several were COMC offers from late yesterday that were accepted, thus today's additions.
Jaren Kendall. COMC buy. Maybe this guy makes it, maybe he doesn't. Maybe the Dodgers end up shipping him off in a deal, as they have several catchers in the pipeline already. He is 23 and playing A ball. No MLB experience yet, but plenty of Dodger cards available of him.
Max Muncy. I do like the A&G mini cards.
Skip Schumaker /25. COMC buy. Most, if not all of his Dodger cards are logo-less. Still better than a poke in the eye! He played 1 season in LA, 2013. The Dodgers got him from the Cardinals or a minor leaguers, Jake Lemmerman. It was not an AS year, but he appeared in 125 games, mostly OF and 44 at 2B. He even pitched in 2 games! However, his prime years were behind him and he was done by 2015.
Terrance Gore. COMC buy. I think I saw he has a logo-less Dodger card, so I may try to snag one. He made his LA debut this year and only appeared in 2 games, 1 as a defensive sub and once as a pinch runner. He is on the 28 man roster currently. Maybe we'll see him in the playoffs?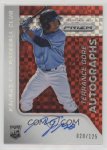 Jake McGee. COMC buy. Baseball reference is missing some details for this guy. He last shows being released by Colorado in July 2020. However, his is on the Dodgers now and he has played 24 games for the Dodgers and is 3-1 with a 2.66 ERA and 33K in 20 innings of work. Not bad.
Al Oliver archives /30. What can I say, I like Oliver and the Archives set. More coming...
Blake Treinen. COMC buy. Another A&G mini, Blake is 3-3 in 27 appearances this year for LA.
Now comes the questionable "certified" cards. These come from "Historic Autographs". Basically, these guys sold packs of TTM/IP autographs on "vintage" cards, slapped a hologram sticker on the back and now you have "certified" pack pulled autographs. Where did their supply come from? How do we know they are not fakes? Good questions, likely without real answers from these guys. I know they have done a number of buyback type autograph offerings. Niche market stuff.
I got a lot of 9, only for the Garvey, but there were a few other neat cards and the Dodger tally came to 3. Garvey and Moon are Dodger cards and Bob Bailer would eventually become a Dodger. I don't know how many of any given player or card were issued this way, but I suspect they are somewhat limited. Neat item, for what it is.
The final card is a 1986 Jerry Royster. The signature is smudged, but I like this card image so I grabbed it with the 3x5 lot that is coming in the next post. Royster began his career in 1971 with the Dodgers organization. in 1973 he made his MLB debut and over the course of the next 3 seasons, logged in a total of 29 games and hit somewhere around .235. the Dodgers traded him in 1975 with Tom Paciorek, Lee Lacy and jimmy Wynn to the Braves for Ed Goodson and Dusty Baker. Several of those players would be captured in the 1976T traded set, but sadly not all. Would have been cool to see a Goodson Traded card in a Dodger uniform. Royster went on to have a decent career that lasted until 1988, mostly with the Braves.
To be continued...
Last edited: