Another decent mail day, but still no sign of THE item I am especially waiting on, and no update on the tracking # since 2/17....GRRRR!
I did get this Garvey pin set with auto plaque. These were sold out of the team store and probably mail order, limited to 1000 sets, although I only really see fairly low numbered editions. This could be one where they stopped selling them after a certain point and there are not actually 1000 of them. Just a guess though. I did not need this, I have several, but could not pass up the opening bid of $10! S/H was $15, so $25 out the door. I bid and never saw any competition, so $25 got me another one for the collection.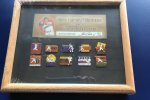 I got another 2004 Timeless Teams card. Pretty sure i have this too, but for the price, it was worth doubles (or triples). John Shelby.
Last item today was a new Topps Garvey auto. these were selling for STUPID prices when they first hit. After realizing that they were not rare, I offered several sellers $12 and all passed. I watched singles selling for $20-30 and more, laughing at each one. Eventually someone took me up on my $12 offer. Since then, I have seen a few sell for $20-30, but a few in the $10-20 range too. It's realistically a $10 auto, if that. There are copies /50 and /25 that I have seen listed. There could be lower print runs that I have yet to see, but I never researched the set to see. I landed a /50 and only one /25 has been listed so far. I'd almost prefer that new items stay hidden for a while at the rates people are paying for stuff that is worth nowhere near what they are paying. Sure, something is only worth what someone is willing to pay for it, but prices drop on most cards when the "new" rubs off. That is happening now. Still nice to see a Garvey auto with Logos and Team names after seeing pretty much only Panini Garvey stuff for a while.