Well the weird market has not seemed to cool and now even the scrubbiest of autos seem to be selling way beyond what they are actually worth (like the housing market). Who the F is overpaying for all these cards? I hope you are in it for the flip and you enjoy the collapse when it comes.
I can still sniff out a few bargains here and there, so my buying has not ceased entirely yet. The latest find is a lot of baseball Christmas cards. The exciting part for me was that there are 5 Dodger cards, 4 of which have former GM Fred Claire signatures on them. The last has nobody I recognize, but still cool.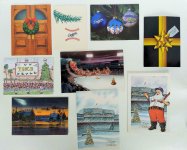 I also received this Heritage Real One of one time Dodger Gene Hermanski, although for this appearance he represents the Pirates. Sadly, no Heritage set would have featured him as a Dodger and the 54 set was the last option for him as a player. His career came to an end with 41 games in Pittsburgh in 1953. I was not sure if I had it already, but after compiling a list of all the Dodgers (former/future) that were featured in the various years, I flagged his as being one I should look for. He played in Brooklyn from 1943 through part of 1951. His best year was 1948, the only year with Brooklyn that he played in more than 100 games for the team. In 133 games, mostly in RF, he hit .290 with 15 HR and 60 RBI. With a franchise so loaded with future HOFers, can you believe he lead the team in dingers that season?! A young Jackie Robinson was 2nd at 12 and in his first full season, Gil Hodges rounded out the top 3 with 11. Gil would of course become one of the more prolific HR hitters for the franchise.
Gene died in 2010 at the age of 90. Glad to have a certified card of him, even if it is a Pirates card.