Part II of IV
This was a lot of various Dodger stuff. It looked like someone probably lived in LA and went to Dodger games periodically, maybe sent away for some autographs as a kid. Who knows, but I love to find cheaper randon Dodger lots in hopes of scoring some neat stuff in bulk. This lot delivered. It was $20 total and included 8 signed postcards, plus some other crap I am less excited about other than this 5x7 team issued photo packet single of Garvey. I see this particular pose less often than most of them. It dates to 1982, so last one of about 5-6 poses issued before he went to San Diego. Belanger Dodger stuff is cool too.
Anyway, the 8 postcards include one vintage Tommy John, 1 Spanish broadcast team & 6x 1985 & 86 Coke. 3 from each year. I can never tell the two years apart at a glance, but there is a date on the front. Other than that, they are all identical on the back. These are surprisingly hard to find for mid 80s issues. I am fairly certain the team had them made strictly for autograph requests. I do not know if one could obtain a set in one shot, but based on how few there seem to be, I would think not. Included are Carlos Diaz, Ben Hines (coach), Ken Landreaux, Alejandro Pena, Ron Perranoski (coach) and Bill Russell.
i don't think most of these guys really warrant a lengthy write-up, given how many guys arrived today. I am going to feature 2:
Carlos Diaz is a bit harder than a lot of same era guys to find autographs from. "Bimbo", as he was nicknamed by his father when he was a child (after a clown), was originally a Mariners prospect. The Mariners traded him away to the Braves for Jeff Burroughs in 1981. After 19 appearances with the Braves in 1982, they sent him to the Mets in an unexciting deal. He finished the year with 4 appearances and no decisions and then logged in a 3-1 record with a 2.05 ERA and 2 saves in 83 for the Mets. It looked like he was coming around when in December 83, the Mets traded him with Bob Bailor to the Dodgers for Sid Fernandez and some other scrub not worth mentioning. This was an interesting trade in that both Diaz and Fernandez were both born in Hawaii, a very exclusive club in MLB. Sid had that awesome 1984 Donruss rated rookie card that just made him look like he was going to be awesome. That is what 1984 me thought at least. Sid, by the way, appeared in a while 2 games for the 1983 Dodgers and was 0-1. that was his entire Dodger experience, so this trade did not look good for the mets. As it turned out, it was definitely a food deal for the Mets. Diaz only lasted a couple more years with the Dodgers in limited time, although he was 7-3. Sounds like he was just injury prone and was out of baseball before the 1987 season started. He returned to Hawaii and died of a heart attack at age 57 in 2015.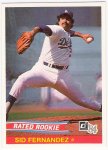 Ben Hines was a batting coach for the Dodgers in 1985-86 and 1988-93. Besides that, there isn't a lot to tell. He had some playing time in the Orioles system in the early 60s and was a college coach as well. Little tidbit, he won a small college world series and a MLB World Series (88 Dodgers), a fairly exclusive club apparently. As far as I can tell, Hines is still alive and is 84. He may be on a Police card, but I think his card selection must be pretty small besides this Coke PC.
The final item is something I was surprised about, because I don't always read ebay descriptions close enough. In this case it was a good thing. I saw the postcard among all the signed Coke PCs, but did not see that it was signed in verso. The price was good enough to warrant winning w/o this knowledge and when the package arrived today, I was pleasantly surprised to see a signature of Rene Cardenas. Now this is right up my alley. Although not as well known in the US as Vin Scully, Jaime Jarrin (who got himself a Topps autographed card this year - Previously featured) and Cardenas are long time Spanish broadcasters for MLB. Jarrin actually trained under Cardenas in 1959, who was MLB's first Spanish language broadcaster. The Colt 45s hired him away in 1961, and he was with Houston until 1975. He returned to his native Nicaragua but he would return to the States in 1981 to broadcast for the Rangers before reuniting once more with Jarrin and the Dodgers from 1982-1998. I believe he is now retired and still alive, at either 89 or 90 (his birth year is apparently unverified). For being the surprise I didn't realize I was getting, this rises to the top and the coolest item in the batch!