PART IV of IV! Quite an impressive Dodgers mail day for sure:
Merwin Jacobson played for Brooklyn in 1926 and briefly in 1927. This followed a 10 year absence from MLB, after making his debut in 1915 with the Giants (8 games) and 1916 with the Cubs (4 games). Brooklyn would be the last of him MLB career, but remained in the minors through 1933. He died in 1978 at age 83.
Emil "Dutch" Leonard, not to be confused with an earlier pitcher by the name of Hubert "Dutch" Leonard, pitched for the Dodgers from his rookie season in 1933-1936. He compiled an 18-23 record in that time, but would go on to better success after he was traded, winning 173 more games, including a 20 W season for the 1939 Senators and 4 AS appearances. Leonard died in 1973 at age 74.
Bill Hubbell ended his career at 28 with the 1925 Robins, going 3-6. He died in 1980 at age 83.
Buck Marrow pitched parts of 2 seasons with Brooklyn in 1937-38. He was 1-3 in 21 games. 1928 would be his final MLB season at age 28. he died in 1982 at age 73.
Bob McGraw pitched for the Robins from 1925-27, compiling a 9-16 record in those three partial seasons. He died in 1978 at age 83.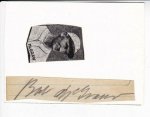 Earl Mossor appeared in 3 games for the 1951 Dodgers, pitching a total of 1.2 innings and had a 32.40 ERA, Yikes! He toiled in the minors from 1946-1959, with those 3 games being his cup of coffee in the show. He died in 1988 at the age of 63.
Joe Riggert played OF in 27 games for the 1914 Robins at hit .193, but he did have 3 triples! He died in 1973 at age 86.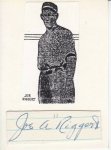 And that's a wrap for today!