Was there the first three days, here's my report.
First off, I don't do the autos, showcase cards or any wax so I can't say anything regarding those. I am a discount bargain box hunter.
I've been to over ten nationals and have never bought as many cards as I did this show. I got a little over 1,000, nearly all from bargain boxes, between a nickel and $10.
The only times the show wasn't packed was between 930-10 when vip' s were let in. Once the general public was in, all three days were packed.
Yes, there were traffic jams sometimes where you were at a standstill.
The center opened the way back room (lower ceiling, red carpet) which was totally mobbed sometimes. I think that's were several "YouTube celebs" were. I also think the oldest card sold in this area was 2015
I know there were thefts and there's a long video of a guy returning his backpack full of stolen cards to the dealer after being caught and eventually hauled away in cuffs.
There were many camera crews there, from espn to the youtubers. Great exposure for the hobby.
If you really like to overpay for basic food, then the center's food counters are for you. Have you ever spent $14.50 for two hot dogs and a bag of chips? Or $5 for a bottle of water? I thought I was at a Yankee game.
I usually stay across the street from the show but this year I booked late and stayed about two miles away. I suggest you stay walking distance unless you don't mind being dependant on the shuttle bus or uber.
My hotel's bus had only two morning drop offs and 2 after show pick ups.
Most of the aisles took 500 steps to walk from front to back. Multiple that by all the aisles plus side aisles and you can see how much walking can be done. I am beyond tired.
The pics below show a few things, like the wrap around and around and around line for VIP admission, food prices (not my pics), pre opening VIP room (served sliders and pizza) and my boxes of cards bought at the show.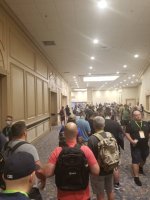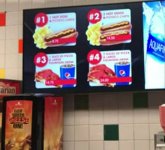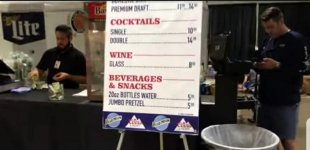 Sent from my SM-G950U using
Freedom Card Board mobile app