Featured Contributor, Vintage Corner, Senior Membe
Stop me if you heard this one before…..
A nine year old walks into a dime store and stops dead in his tracks at the sight of ten boxes of baseball cards in the clearance bin. Glorious wax packs with cartoon-like baseball players on the front stare at him as the scent of mouthwatering bubble gum flows out from under the wax wrappers like an apple pie at Thanksgiving. The nine year old asks, begs and pleads with his dad to buy them all only to be met with the look that instantly shows that the request was going to be denied. The packs were marked down to five cents each and a deal was made between child and parent that he could spend one whole dollar on this newly found treasure but nothing more. The child gathers up twenty of the best wax wrapped treasures, taking two from each box as he knows this will help prevent doubles. The father hears nothing more from the back seat on the ride home but his son saying got it, need it, need it, got it. The child exits the car and races to his room to add his newly found cardboard to his already existing collection. He carefully marks the checklists and reads the back of each card as he learns more about the players he has only seen on television. Before long, the cards are put to bed in their new resting place and the child is forced to toss out the huge *** of bubble gum that he accumulated in his mouth one stick at a time from his treasured packs. The gum had finally lost its flavor….if it really had flavor in the first place.
Ok, I will admit this nine year old was me and this is a true story. The memory of walking into the Ben Franklin is one of those moments that is burned into my memory and brought up when I run across a card from this less than iconic set. While the hobby does not embrace the 1973 Topps baseball set as much as it does other vintage offerings, the faces on these cards hold a special spot in my heart as is the first set I ever attempted and completed. Most of the cards I received that year were obtained through buying packs using money I earned cutting grass of by trades with my friends. When I was down to the last twenty or so cards I ordered those that I needed from a dealer that advertised in the back of the Baseball Digest magazines that I devoured like they were my Bible. The overall condition of this set was nothing to be proud of but I had all 660 cards and nobody in my neighborhood could make that claim.
Over the years I have gathered about 50 cards from this set and stashed them away for a number of years, knowing full well I was going to make a run at the set someday. I have also spent the better part of the last few weeks watching Ebay and finding a few great sellers who have the commons and stars I need at prices that are hard to beat. I have made some purchases that put my set at about 100 different cards right now which has set me well on my way to eventual completion. I am certainly in no rush to complete this set so I limit myself to purchasing ten cards at a time in an effort to give me the feeling of opening a pack when the mail arrives. I have also decided to mix the purchases with stars, semi stars and of course commons so that I can mimic the true pack ripping experience but this time, no off center cards! Since this set was actually issued in six series of cards I had toyed with the idea of only purchasing within the series until each has been completed but I am not that crazy. I do intend to post each purchase with scans and I do hope you enjoy the ride with me. I have only about half my scans completed as of this posting but will work to complete them within the next few days. It's not much to look at right now but it is a great start and a nice trip down memory lane for me.
As for those 20 packs I purchased back in the day, every one of them was the high series that contained the Schmidt rookie. I can only imagine how many Schmidt's I would have had if I could have convinced my dad to buy all ten boxes. And yes, I did get a Schmidt but rubber bands and ball point pens have rendered it less than respectable and it was sold off years ago for next to nothing.
Thanks for reading and please feel free to leave comments.
1 Aaron/Ruth/Mays
2 Rich Hebner Pittsburgh Pirates
3 Jim Lonborg Philadelphia Phillies
4 John Milner New York Mets
5 Ed Brinkman Detroit Tigers
6 Mac Scarce Philadelphia Phillies
7 Rangers Team Texas Rangers
8 Tom Hall Cincinnati Reds
9 Johnny Oates Baltimore Orioles
10 Don Sutton Los Angeles Dodgers
11 Chris Chambliss Cleveland Indians
12 Padres Mgr/Coaches San Diego Padres
13 George Hendrick Oakland Athletics
14 Sonny Siebert Boston Red Sox
15 Ralph Garr Atlanta Braves
16 Steve Braun Minnesota Twins
17 Fred Gladding Houston Astros
18 Leroy Stanton California Angels
19 Tim Foli Montreal Expos
20 Stan Bahnsen Chicago White Sox
21 Randy Hundley Chicago Cubs
22 Ted Abernathy Kansas City Royals
23 Dave Kingman San Francisco Giants
24 Al Santorini St. Louis Cardinals
25 Roy White New York Yankees
26 Pirates Team Pittsburgh Pirates
27 Bill Gogolewski Texas Rangers
28 Hal McRae Cincinnati Reds
29 Tony Taylor Detroit Tigers
30 Tug McGraw New York Mets
[/TD]
31 Buddy Bell Cleveland Indians
32 Fred Norman San Diego Padres
33 Jim Breazeale Atlanta Braves
34 Pat Dobson Baltimore Orioles
35 Willie Davis Los Angeles Dodgers
36 Steve Barber California Angels
37 Bill Robinson Philadelphia Phillies
38 Mike Epstein Oakland Athletics
39 Dave Roberts Houston Astros
40 Reggie Smith Boston Red Sox
41 Tom Walker Montreal Expos
42 Mike Andrews Chicago White Sox
43 Randy Moffitt San Francisco Giants
45 Ellie Rodriguez Milwaukee Brewers
46 Lindy McDaniel New York Yankees
47 Luis Melendez St. Louis Cardinals
48 Paul Splittorff Kansas City Royals
49 Twins Mgr/Coaches Minnesota Twins
50 Roberto Clemente Pittsburgh Pirates
51 Check Seelbach Detroit Tigers
52 Denis Menke Cincinnati Reds
53 Steve Dunning Cleveland Indians
54 Checklist 1-132
55 John Matlack New York Mets
56 Merv Rettenmund Baltimore Orioles
57 Derrel Thomas San Diego Padres
58 Mike Paul Texas Rangers
59 Steve Yeager Los Angeles Dodgers
60 Ken Holtzman Oakland Athletics
61 Williams/Carew LL
62 Bench/Allen LL
63 Bench/Allen LL
64 Brock/Campaneris
65 Carlton/Tiant LL
66 Carlton/Perry/Wood
67 Carlton/Ryan LL
68 Carroll/Lyle
69 Phil Gagliano Boston Red Sox
70 Milt Pappas Chicago Cubs
71 Johnny Briggs Milwaukee Brewers
72 Ron Reed Atlanta Braves
73 Ed Herrmann Chicago White Sox
74 Billy Champion Milwaukee Brewers
75 Vada Pinson California Angels
76 Doug Rader Houston Astros
77 Mike Torrez Montreal Expos
78 Richie Scheinblum Kansas City Royals
79 Jim Willoughby San Francisco Giants
80 Tony Oliva Minnesota Twins
81 Cubs Mgr/Coaches Chicago Cubs
82 Fritz Peterson New York Yankees
83 Leron Lee San Diego Padres
84 Rollie Fingers Oakland Athletics
85 Ted Simmons St. Louis Cardinals
86 Tom McCraw Cleveland Indians
87 Ken Boswell New York Mets
88 Mickey Stanley Detroit Tigers
89 Jack Billingham Cincinnati Reds
90 Brooks Robinson Baltimore Orioles
91 Dodgers Team Los Angeles Dodgers
92 Jerry Bell Milwaukee Brewers
93 Jesus Alou Houston Astros
94 Dick Billings Texas Rangers
95 Steve Blass Pittsburgh Pirates
96 Doug Griffin Boston Red Sox
97 Willie Montanez Philadelphia Phillies
98 Dick Woodson Minnesota Twins
99 Carl Taylor Kansas City Royals
100 Hank Aaron Atlanta Braves
101 Ken Henderson San Francisco Giants
102 Rudy May California Angels
103 Celerino Sanchez New York Yankees
104 Reggie Cleveland St. Louis Cardinals
105 Carlos May Chicago White Sox
106 Terry Humphrey Montreal Expos
107 Phil Hennigan New York Mets
108 Bill Russell Los Angeles Dodgers
109 Doyle Alexander Baltimore Orioles
110 Bob Watson Houston Astros
111 Dave Nelson Texas Rangers
112 Gary Ross San Diego Padres
113 Jerry Grote New York Mets
114 Lynn McGlothen Boston Red Sox
115 Ron Santo Chicago Cubs
116 Yankees Mgr/Coaches New York Yankees
117 Ramon Hernandez Pittsburgh Pirates
118 John Mayberry Kansas City Royals
119 Larry Bowa Philadelphia Phillies
120 Joe Coleman Detroit Tigers
121 Dave Rader San Francisco Giants
122 Jim Strickland Minnesota Twins
123 Sandy Alomar California Angels
124 Jim Hardin Atlanta Braves
125 Ron Fairly Montreal Expos
126 Jim Brewer Los Angeles Dodgers
127 Brewers Team Milwaukee Brewers
128 Ted Sizemore St. Louis Cardinals
129 Terry Forster Chicago White Sox
130 Pete Rose Cincinnati Reds
131 Red Sox Mgr/Coaches Boston Red Sox
132 Matty Alou New York Yankees
133 Dave Roberts San Diego Padres
134 Milt Wilcox Cleveland Indians
135 Lee May Houston Astros
136 Orioles Mgr/Coaches Baltimore Orioles
137 Jim Beauchamp New York Mets
138 Horacio Pina Texas Rangers
139 Carmen Fanzone Chicago Cubs
140 Lou Piniella Kansas City Royals
141 Bruce Kison Pittsburgh Pirates
142 Thurman Munson New York Yankees
143 John Curtis Boston Red Sox
144 Marty Perez Atlanta Braves
145 Bobby Bonds San Francisco Giants
146 Woodie Fryman Detroit Tigers
147 Mike Anderson Philadelphia Phillies
148 Dave Goltz Minnesota Twins
149 Ron Hunt Montreal Expos
150 Wilbur Wood Chicago White Sox
151 Wes Parker Los Angeles Dodgers
152 Dave May Milwaukee Brewers
153 Al Hrabosky St. Louis Cardinals
154 Jeff Torborg California Angels
155 Sal Bando Oakland Athletics
156 Cesar Geronimo Cincinnati Reds
157 Denny Riddleberger Cleveland Indian
158 Astros Team Houston Astros
159 Clarence Gaston San Diego Padres
160 Jim Palmer Baltimore Orioles
161 Ted Martinez New York Mets
162 Pete Broberg Texas Rangers
163 Vic Davalillo Pittsburgh Pirates
164 Monty Montgomery Kansas City Royals
165 Luis Aparicio Boston Red Sox
166 Terry Harmon Philadelphia Phillies
167 Steve Stone San Francisco Giants
168 Jim Northrup Detroit Tigers
169 Ron Schueler Atlanta Braves
170 Harmon Killebrew Minnesota Twins
171 Bernie Carbo St. Louis Cardinal
172 Steve Kline New York Yankees
173 Hal Breeden Montreal Expos
174 Rich Gossage Chicago White Sox
175 Frank Robinson California Angels
176 Chuck Taylor Milwaukee Brewers
177 Bill Plummer Cincinnati Reds
178 Don Rose California Angels
179 A's Mgr/Coaches Oakland Athletics
180 Fergie Jenkins Chicago Cubs
181 Jack Brohamer Cleveland Indians
182 Mike Caldwell San Diego Padre
183 Don Buford Baltimore Orioles
184 Jerry Koosman New York Met
185 Jim Wynn Houston Astros
186 Bill Fahey Texas Rangers
187 Luke Walker Pittsburgh Pirates
188 Cookie Rojas Kansas City Royals
189 Greg Luzinski Philadelphia Phillies
190 Bob Gibson St. Louis Cardinals
191 Tigers Team Detroit Tigers
192 Pat Jarvis Atlanta Braves
193 Carlton Fisk Boston Red Sox
194 Jorge Orta Chicago White Sox
195 Clay Carroll Cincinnati Reds
196 Ken McMullen Los Angeles Dodgers
197 Ed Goodson San Francisco Giants
198 Horace Clarke New York Yankee
199 Bert Blyleven Minnesota Twins
200 Billy Williams Chicago Cubs
201 AL Playoffs
202 NL Playoffs
203 World Series Game 1
204 World Series Game 2
205 World Series Game 3
206 World Series Game 4
207 World Series Game 5
208 World Series Game 6
209 World Series Game 7
210 World Series Summary
211 Balor Moore Montreal Expos
212 Joe Lahoud Milwaukee Brewers
213 Steve Garvey Los Angeles Dodgers
214 Dave Hamilton Oakland Athletics
215 Dusty Baker Atlanta Braves
216 Toby Harrah Texas Rangers
217 Don Wilson Houston Astros
218 Aurelio Rodriguez Detroit Tigers
219 Cardinals Team St. Louis Cardinals
220 Nolan Ryan California Angels
221 Fred Kendall San Diego Padres
222 Rob Gardner Oakland Athletics
223 Bud Harrelson New York Mets
224 Bill Lee Boston Red Sox
225 Al Oliver Pittsburgh Pirates
226 Ray Fosse Cleveland Indians
227 Wayne Twitchell Philadelphia Phillies
228 Bobby Darwin Minnesota Twins
229 Roric Harrison Baltimore Orioles
230 Joe Morgan Cincinnati Reds
231 Bill Parsons Milwaukee Brewers
232 Ken Singleton Montreal Expos
233 Ed Kirkpatrick Kansas City Royals
234 Bill North Oakland Athletics
235 Jim Hunter Oakland Athletics
236 Tito Fuentes San Francisco Giants
237 Braves Coaches Atlanta Braves
238 Tony Muser Chicago White Sox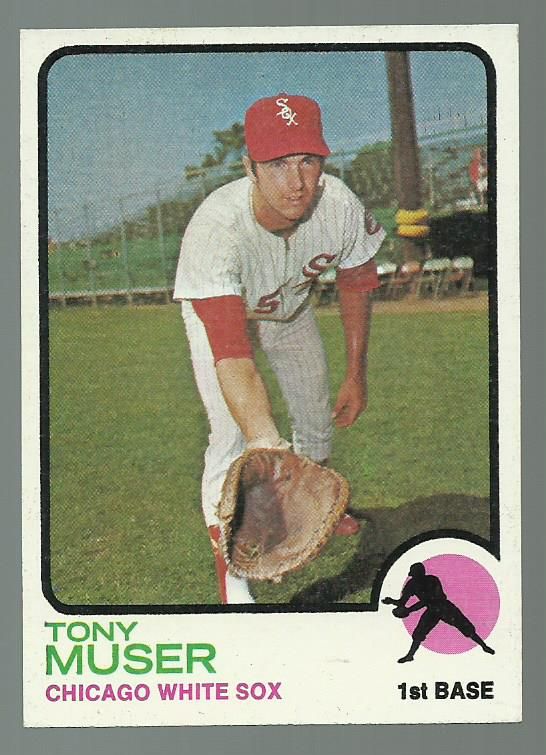 239 Pete Richert Los Angeles Dodgers
240 Bobby Murcer New York Yankees
241 Dwain Anderson St. Louis Cardinals
242 George Culver Houston Astros
243 Angels Team California Angels
244 Ed Acosta San Diego Padres
245 Carl Yastrzemski Boston Red Sox
246 Ken Sanders Philadelphia Phillies
247 Del Unser Cleveland Indians
248 Jerry Johnson San Francisco Giants
249 Larry Biittner Texas Rangers
250 Manny Sanguillen Pittsburgh Pirates
251 Roger Nelson Kansas City Royals
252 Giants Mgr/Coaches San Francisco Giants
253 Mark Belanger Baltimore Orioles
254 Bill Stoneman Montreal Expos
255 Reggie Jackson Oakland Athletics
256 Chris Zachary Detroit Tigers
257 Yogi Berra Mgr New York Mets
258 Tommy John Los Angeles Dodgers
259 Jim Holt Minnesota Twins
260 Gary Nolan Cincinnati Reds
261 Pat Kelly Chicago White Sox
262 Jack Aker Chicago Cubs
263 George Scott Milwaukee Brewers
264 Checklist 133-264
265 Gene Michael New York Yankees
266 Mike Lum Atlanta Braves
267 Lloyd Allen California Angels
268 Jerry Morales San Diego Padres
269 Tim McCarver St. Louis Cardinals
270 Luis Tiant Boston Red Sox
271 Tom Hutton Philadelphia Phillies
272 Ed Farmer Cleveland Indians
273 Chris Speier San Francisco Giants
274 Darold Knowles Oakland Athletics
275 Tony Perez Cincinnati Reds
276 Joe Lovitto Texas Rangers
277 Bob Miller Pittsburgh Pirates
278 Orioles Team Baltimore Orioles
279 Mike Strahler California Angels
280 Al Kaline Detroit Tigers
281 Mike Jorgensen Montreal Expos
282 Steve Hovley Kansas City Royals
283 Ray Sadecki New York Mets
284 Glenn Borgmann Minnesota Twins
285 Don Kessinger Chicago Cubs[
286 Frank Linzy Milwaukee Brewers
287 Eddie Leon Chicago White Sox
288 Gary Gentry Atlanta Braves
289 Bob Oliver California Angels
290 Cesar Cedeno Houston Astros
291 Rogelio Moret Boston Red Sox
292 Jose Cruz St. Louis Cardinals
293 Bernie Allen New York Yankees
294 Steve Arlin San Diego Padres
295 Bert Campaneris Oakland Athletics
296 Reds Mgr/Coaches Cincinnati Reds
297 Walt Williams Cleveland Indians
298 Ron Bryant San Francisco Giants
299 Ted Ford Texas
300 Steve Carlton Philadelphia Phillies
301 Billy Grabarkewitz California Angels
302 Terry Crowley Baltimore Orioles
303 Nelson Briles Pittsburgh Pirates
304 Duke Sims Detroit Tigers
305 Willie Mays New York Mets
306 Tom Burgmeier Kansas City Royals
307 Boots Day Montreal Expos
308 Skip Lockwood Milwaukee Brewers
309 Paul Popovich Chicago Cubs
310 Dick Allen Chicago White Sox
311 Joe Decker Minnesota Twins
312 Oscar Brown Atlanta Braves
313 Jim Ray Houston Astros
314 Ron Swoboda New York Yankees
315 John Odom Oakland Athletics
316 Padres Team San Diego Padres
317 Danny Cater Boston Red Sox
318 Jim McGlothlin Cincinnati Reds
319 Jim Spencer California Angels
320 Lou Brock St. Louis Cardinals
321 Rich Hinton Texas Rangers
322 Garry Maddox San Francisco Giants
323 Tigers Coaches Detroit Tigers
324 Al Downing Los Angeles Dodgers
325 Boog Powell Baltimore Orioles
326 Darrell Brandon Philadelphia Phillies
327 John Lowenstein Cleveland Indians
328 Bill Bonham Chicago Cubs
329 Ed Kranepool New York Mets
330 Rod Carew Minnesota Twins
331 Carl Morton Montreal Expos
332 John Felske Milwaukee Brewers
333 Gene Clines Pittsburgh Pirates
334 Freddie Patek Kansas City Royals
335 Bob Tolan Cincinnati Reds
336 Tom Bradley San Francisco Giant
337 Dave Duncan Oakland Athletics
338 Checklist 265-396
339 Dick Tidrow Cleveland Indians
340 Nate Colbert San Diego Padres
341 Jim Palmer Kid Pixs Baltimore Orioles
342 Sam McDowell Kid Pixs Oakland Athletics
343 Bobby Murcer Kid Pixs New York Yankees
344 Jim Hunter Kid Pixs Oakland Athletics
345 Chris Speier Kid Pixs San Francisco Giants
346 Gaylord Perry Kid Pixs Cleveland Indians
347 Royals Team Kansas City Royals
348 Rennie Stennett Pittsburgh Pirates
349 Dick McAuliffe Detroit Tigers
350 Tom Seaver New York Mets
351 Jimmy Stewart Houston Astros
352 Don Stanhouse Texas Rangers
353 Steve Brye Minnesota Twins
354 Billy Parker California Angels
355 Mike Marshall Montreal Expos
356 White Sox Mgr/Coache Chicago White Sox
357 Ross Grimsley Cincinnati Reds
358 Jim Nettles Minnesota Twins
359 Cecil Upshaw Atlanta Braves
360 Joe Rudi Oakland Athletics
361 Fran Healy San Francisco Giants
362 Eddie Watt Baltimore Orioles
363 Jackie Hernandez Pittsburgh Pirates
364 Rick Wise St. Louis Cardinals
365 Rico Petrocelli Boston Red Sox
366 Brock Davis Milwaukee Brewers
367 Burt Hooton Chicago Cubs
368 Bill Buckner Los Angeles Dodgers
369 Lerrin LaGrow Detroit Tigers
370 Willie Stargell Pittsburgh Pirates
371 Mike Kekich New York Yankees
372 Oscar Gamble Cleveland Indians
373 Clyde Wright California Angels
374 Darrell Evans Atlanta Braves
375 Larry Dierker Houston Astros
376 Frank Duffy Cleveland Indians
377 Expos Coaches Montreal Expos
378 Lenny Randle Texas Rangers
379 Cy Acosta Chicago White Sox
380 Johnny Bench Cincinnati Reds
381 Vicente Romo San Diego Padres
382 Mike Hegan Oakland Athletics
383 Diego Segui St. Louis Cardinals
384 Don Baylor Baltimore Orioles
385 Jim Perry Minnesota Twins
386 Don Money Milwaukee Brewers
387 Jim Barr San Francisco Giants
388 Ben Oglivie Boston Red Sox
389 Mets Team New York Mets
390 Mickey Lolich Detroit Tiger
391 Lee Lacy Los Angeles Dodgers
392 Dick Drago Kansas City Royals
393 Jose Cardenal Chicago Cubs
394 Sparky Lyle New York Yankees
395 Roger Metzger Houston Astros
396 Grant Jackson Baltimore Orioles
397 Dave Cash Pittsburgh Pirates
398 Rich Hand Texas Rangers
399 George Foster Cincinnati Red
400 Gaylord Perry Cleveland Indians
401 Clyde Mashore Montreal Expos
402 Jack Hiatt California Angels
403 Sonny Jackson Atlanta Braves
404 Chuck Brinkman Chicago White Sox
405 Cesar Tovar Philadelphia Phillies
406 Paul Lindblad Oakland Athletics
407 Felix Millan New York Met
408 Jim Colborn Milwaukee Brewers
409 Ivan Murrell San Diego Padres
410 Willie McCovey San Francisco Giants
411 Ray Corbin Minnesota Twins
412 Manny Mota Los Angeles Dodgers
413 Tom Timmermann Detroit Tigers
414 Ken Rudolph Chicago Cubs
415 Marty Pattin Boston Red Sox
416 Paul Schaal Kansas City Royals
417 Scipio Spinks St. Louis Cardinals
418 Bobby Grich Baltimore Orioles
419 Casey Cox New York Yankees
420 Tommie Agee Houston Astros
421 Angels Mgr/Coaches California Angels
422 Bob Robertson Pittsburgh Pirates
423 Johnny Jeter Chicago White Sox
424 Denny Doyle Philadelphia Phillies
425 Alex Johnson Cleveland Indians
426 Dave LaRoche Chicago Cu
427 Rick Auerbach Milwaukee Brewers
428 Wayne Simpson Kansas City Royals
429 Jim Fairey Montreal Expos
430 Vida Blue Oakland Athletic
431 Gerry Moses New York Yankees
432 Dan Frisella Atlanta Braves[
433 Willie Horton Detroit Tigers
434 Giants Team San Francisco
435 Rico Carty Texas Rangers
436 Jim McAndrew New York Mets
437 John Kennedy Boston Red Sox
438 Enzo Hernandez San Diego Padres
439 Eddie Fisher Chicago White Sox
440 Glenn Beckert Chicago Cubs
441 Gail Hopkins Kansas City Royals
442 Dick Dietz Los Angeles Dodgers
443 Danny Thompson Minnesota Twins
444 Ken Brett Philadelphia Phillies
445 Ken Berry California Angels
446 Jerry Reuss Houston Astros
447 Joe Hague Cincinnati Reds
448 John Hiller Detroit Tigers
449 Indians Mgr/Coaches Cleveland Indian
450 Joe Torre St. Louis Cardinal
451 John Vukovich Milwaukee Brewers
452 Paul Casanova Atlanta Braves
453 Checklist 397-52
454 Tom Haller Philadelphia Phillies
455 Bill Melton Chicago White Sox
456 Dick Green Oakland
457 John Strohmayer Montreal Expos
458 Jim Mason Texas Rangers
459 Jimmy Howarth San Francisco Giant
460 Bill Freehan Detroit Tigers
461 Mike Corkins San Diego Padres
462 Ron Blomberg New York Yankees
463 Ken Tatum Boston Red Sox
464 Cubs Team Chicago Cubs
465 Dave Giusti Pittsburgh Pirates
466 Jose Arcia Kansas City Royals
467 Mike Ryan Philadelphia Phillies
468 Tom Griffin Houston Astros
469 Dan Monzon Minnesota Twins
470 Mike Cuellar Baltimore Orioles
471 Ty Cobb LDR
472 Lou Gehrig LDR New York Yankee
473 Hank Aaron LDR Atlanta Braves
474 Babe Ruth LDR New York Yankees
475 Ty Cobb LDR Detroit Tigers
476 Walter Johnson LDR
477 Cy Young LDR
478 Walter Johnson LDR
479 Hal Lanier New York Yankees
480 Juan Marichal San Francisco Giants
481 White Sox Team Chicago White Sox
482 Rick Reuschel Chicago Cubs
483 Dal Maxvill Oakland Athletics
484 Ernie McAnally Montreal Expos
485 Norm Cash Detroit Tigers
486 Phillies Mgr/Coaches Philadelphia Phillies
487 Bruce Dal Canton Kansas City Royals
488 Dave Campbell San Diego Padres
489 Jeff Burroughs Texas Rangers
490 Claude Osteen Los Angeles Dodgers
491 Bob Montgomery Boston Red Sox
492 Pedro Borbon Cincinnati Reds
493 Duffy Dyer New York Mets
494 Rich Morales Chicago White Sox
495 Tommy Helms Houston Astros
496 Ray Lamb Cleveland Indians
497 Cardinals Mgr/Coache St. Louis Cardinals
498 Graig Nettles New York Yankees
499 Bob Moose Pittsburgh Pirates
500 A's Team Oakland Athletics
501 Larry Gura Chicago Cubs
502 Bobby Valentine California Angels
503 Phil Niekro Atlanta
504 Earl Williams Baltimore Orioles
505 Bob Bailey Montreal Expos
506 Bart Johnson Chicago White Sox
507 Darrel Chaney Cincinnati Reds
508 Gates Brown Detroit Tigers
509 Jim Nash Philadelphia Phillies
510 Amos Otis Kansas City Royals
511 Sam McDowell San Francisco Giants
512 Dalton Jones Texas Rangers
513 Dave Marshall San Diego Padres
514 Jerry Kenney Cleveland Indians
515 Andy Messersmith Los Angeles Dodgers
516 Danny Walton Minnesota Twins
517 Pirates Mgr/Coaches Pittsburgh Pirates
518 Bob Veale Boston Red
519 John Edwards Houston Astros
520 Mel Stottlemyre New York Yankees
521 Braves Team Atlanta Braves
522 Leo Cardenas California Angels
523 Wayne Granger St. Louis Cardinals
524 Gene Tenace Oakland Athletics
525 Jim Fregosi New York Mets
526 Ollie Brown Milwaukee Brewers
527 Dan McGinn Chicago Cubs
528 Paul Blair Baltimore Orioles
529 Milt May Pittsburgh Pirates
530 Jim Kaat Minnesota Twins
531 Ron Woods Montreal Expos
532 Steve Mingori Cleveland Indians
533 Larry Stahl Cincinnati Reds
534 Dave Lemonds Chicago White Sox
535 John Callison New York Yankees
536 Phillie Team Philadelphia Phillies
537 Bill Slayback Detroit Tigers
538 Jim Hart San Francisco Giants
539 Tom Murphy Kansas City Royals
540 Cleon Jones New York Mets
541 Bob Bolin Boston Red Sox
542 Pat Corrales San Diego Padres
543 Alan Foster California Angels
544 Von Joshua Los Angeles Dodgers
545 Orlando Cepeda Oakland Athletics
546 Jim York Houston Astros
547 Bobby Heise Milwaukee Brewers
548 Don Durham St. Louis Cardinals
549 Rangers Mgr/Coaches Texas Rangers
550 Dave Johnson Atlanta Braves
551 Mike Kilkenny Cleveland Indians
552 J.C. Martin Chicago Cubs
553 Mickey Scott Baltimore Orioles
554 Dave Concepcion Cincinnati Reds
555 Bill Hands Minnesota Twins
556 Yankees Team New York Yankees
557 Bernie Williams San Francisco Giants
558 Jerry May Kansas City Royals
559 Barry Lersch Philadelphia Phillies
560 Frank Howard Detroit Tigers
561 Jim Geddes Chicago White Sox
562 Wayne Garrett New York Mets
563 Larry Haney Oakland Athletics
564 Mike Thompson Texas Rangers
565 Jim Hickman Chicago Cubs
566 Lew Krausse Boston Red Sox
567 Bob Fenwick St. Louis Cardinals
568 Ray Newman Milwaukee Brewers
569 Walt Alston Mgr Los Angeles Dodgers
570 Bill Singer California Angels
571 Rusty Torres Cleveland Indian
572 Gary Sutherland Houston Astros
573 Fred Beene New York Yankees
574 Bob Didier Atlanta Braves
575 Dock Ellis Pittsburgh Pirates
576 Expos Team Montreal Expo
577 Eric Soderholm Minnesota Twins
578 Ken Wright Kansas City Royals
579 Tom Grieve Texas Rangers
580 Joe Pepitone Chicago Cubs
581 Steve Kealey Chicago White Sox
582 Darrell Porter Milwaukee Brewers
583 Bill Greif San Diego Padres
584 Chris Arnold San Francisco Giants
585 Joe Niekro Detroit Tigers
586 Bill Sudakis New York Mets
587 Rich McKinney Oakland Athletics
588 Checklist 529-660
589 Ken Forsch Houston Astros
590 Deron Johnson Philadelphia Phillies
591 Mike Hedlund Cleveland Indians
592 John Boccabella Montreal Expos
593 Royals Mgr/Coaches Kansas City Royals
594 Vic Harris Texas Rangers
595 Don Gullett Cincinnati Reds
596 Red Sox Team Boston Red Sox
597 Mickey Rivers California Angels
598 Phil Roof Minnesota Twins
599 Ed Crosby St. Louis Cardinals
600 Dave McNally Baltimore Orioles
601 Pena/Robls/Stelmaszk
602 Behney/Garcia/Rau
603 Hughes/McNulty/Reitz
604 Jefrson/O'Tool/Strmp
605 Bourque/Cabel/Marquz
606 Mathew/Paciork/Roque
607 Busse/Frias/Guerrero
608 Busby/Colpart/Medich
609 Blanks/Garcia/Lopes
610 Freeman/Hough/Webb
611 Cogins/Wohlford/Zis
612 Lawson/Reynold/Strom
613 Boone/Ivie/Jutze
614 Bumbry/Evans/Spikes
615 Mike Schmidt/Cey
616 Anglni/Blatric/Garmn
617 Rich Chiles New York Mets
618 Andy Etchebarren Baltimore Orioles
619 Billy Wilson Philadelphia Phillies
620 Tommy Harper Boston Red Sox
621 Joe Ferguson Los Angeles Dodgers
622 Larry Hisle Minnesota Twins
623 Steve Renko Montreal Expos
624 Astros Mgr/Coaches Houston Astros
625 Angel Mangual Oakland Athletic
626 Bob Barton Cincinnati Reds
627 Luis Alvarado Chicago White Sox
628 Jim Slaton Milwaukee Brewers
629 Indians Cleveland Indians
630 Denny McLain Atlanta Brave
631 Tom Matchick Baltimore Orioles
632 Dick Selma Philadelphia Phillies
633 Ike Brown Detroit Tigers
634 Alan Closter New York Yankees
635 Gene Alley Pittsburgh Pirates
636 Rick Clark California Angels
637 Norm Niller Houston Astros
638 Ken Reynolds Minnesota Twins
639 Willie Crawford Los Angeles Dodgers
640 Dick Bosman Texas Rangers
641 Reds Team Cincinnati Reds
642 Jose Laboy Montreal Expos
643 Al Fitzmorris Kansas City Royals
644 Jack Heidemann Cleveland Indians
645 Bob Locker Chicago Cubs
646 Brewers Mgr/Coaches Milwaukee Brewers
647 George Stone New York Mets
648 Tom Egan Chicago White Sox
649 Rich Folkers St. Louis Cardinals
650 Felipe Alou New York Yankees
651 Don Carrithers San Francisco Giants
652 Ted Kubiak Oakland Athletics
653 Joe Hoerner Atlanta Braves
654 Twins Team Minnesota Twins
655 Clay Kirby San Diego Padres
656 John Ellis Cleveland Indians
657 Bob Johnson Pittsburgh Pirates
658 Elliott Maddox Texas Rangers
659 Jose Pagan Philadelphia Phillies
660 Fred Scherman Detroit Tigers
Last edited: