Chris Carter.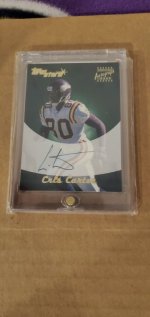 Barry Sanders AP Gold Au.
Rocket.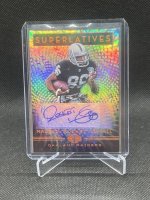 AC Green, Jerry Stackhouse and Alex English Old Schools.
Pretty happy about this one. Aside from co-creator Donald Bellisario and Orson Welles (the voice of Robin Masters, before his death), I now have signatures from all of the primary and most of the secondary, reoccuring characters (10+ episodes and many with fewer appearances) from Magnum PI, the GREATEST TV show ever created! Glenn Cannon played Doc Ibold in 14 episodes. He lived most of his life on Hawaii (1968 until his death in 2013) and was active at the University of Hawaii as a drama teacher and theater after his Magnum days, but his signature seems a bit tricky to find. I can't even really be sure this is legit, as I have not seen one before, but it came from a seller of celebrity autos and also came with a Mears auction listing that it presumably originated from. It's a play booklet/program from a play Cannon starred in. I only spent $30 on it, so happy about that and if it turns out to be fake, it won't kill me.