1993 Topps Finest Refractor #46 Jim Abbott
-- I've toyed with collecting Abbott in the past but never went after a complete collection because he has easy and boring Yankees releases from 1993-1995. So, in lieu, of chasing a
complete
player collection, I've settled for a couple of key issues. This 1993 Refractor being one of them, and the 2005 Fan Favorites Autograph being the other.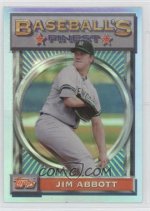 2001 Fleer Triple Crown Green #100 Paul O'Neill /100
-- Gives me all three numbered parallels, toughest is #d/18. Missing just the Purple foil.
1995 Topps #3C Babe Ruth
--- Another variation for my Yankees Topps run. Have the Topps Logo, no Logo and the Conlon. Not a big pickup, but makes the set builder in me happy. The main reason for posting is that I am not sure how the different versions were issued, perhaps someone here can help shed light on this/