One of One Show-Off Thread!​
Doesn't matter what it is; Buy back, Print plate, Base parallel, Relic, Auto, RPA, Digital, Sketch, Artwork, Pop can, Beer bottle, Wood burned, Sculpture or a drawing from your Grandchild or Grandparent. It can be Baseball, Football, Basketball, Hockey, MMA, WWE, Golf, Ping Pong, Bowling, Cheerleaders, Curling, Star Trek, Star Wars, Disney, DC, Marvel or Dog Grooming I don't care as long as it is allowed here.
I'll get it started with a random mix:
Rhys Hoskins 2019 Topps Gallery 5x7 Original Artwork by Kevin Graham pulled from a Mega box.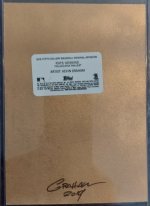 Addison Reed 2012 Bowman Draft Picks & Prospects Black Printing Plate
Dusty Baker 2021 Topps Archives Signature Series 2009 Topps Reds Manager card (On I believe is the Target Throwback retro Topps logo card)
​