One step forward, one step back. Chase De Jong debuted with the Astros, so I lost ground BUT I picked up a new autograph which put me right back where I was. I also have one upgrade.
First the new addition.
Aaron Sanchez. I will want to upgrade to an card with a logo eventually. This card is limited to only 10 copies, which is somewhat cool.
And my upgrade is a cool one.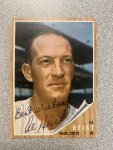 Al Heist. He's somewhat tough to find on his only Houston card.