It has been a long time since I have had a chance to breathe and update. Since my last update, five new Astros have debuted, so I am back to needing 30.
Pedro Baez
Jake Meyers
Rafael Montero
Jose Siri
Jacob Wilson
I only have two upgrades, but one of them is AWESOME!
First, an upgrade for Tyler Clippard from a Minor League card.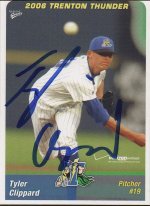 My previous auto.
The upgrade.
I assumed I would get this one eventually, but you never know how the short term members feel especially with the cheating scandal.
Now for the EPIC upgrade. I honestly did not consider this a card that needed upgrading, but sometimes great autos show up and I can't pass on them.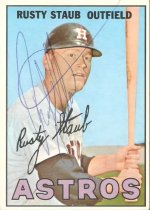 The legendary Rusty Staub. I was happy enough with this card, but I've always leaned away from autographs on cards that have facsimile autographs on them. That said, Staub passed away and I was pretty happy with it.
Then a thing of beauty became available and I had to bite.
Crazy off-center, but it is a WAY nicer looking card AND dual signed. Who could say no?