Popped into the shop yesterday for something to do, and wife bought a Topps S2 hobby box just to keep herself from buying another box of Finest and pulling 2 no-name pitcher autos. She has broken her habit of opening boxes immediately, and letting them ripen on the way home. While I was upstairs changing, she yelled out,"Holy Shirt! Joooel!" I thought she got bad news about her mom, whose had health trouble lately. Thankfully, it was only this: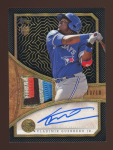 She's had some really good hits over the years, but this is a topper.
We're saving up for the National, so it's listed on ebay. Don't want to make a straight up sales post, but if a board member is interested we can work a deal.