Active member
Administrator
Full story broke on blow out.
https://www.blowoutforums.com/showt...h_L-krIpQ2P4h_zmizR0rlzygQZeM00XuKqhZgUbqCWog
it referenced an old FCB thread
https://www.freedomcardboard.com/fo...bout-new-card-company-tonight-at-boomosbreaks
It's a scathing report that accuses PWCC and Will Jaimet of not only trimming cards but holding the best hits that were supposed to be in the product for themselves instead of inserting them.
It goes on to produce a bunch of character stories that frame Jaimet as a villain and to help attempt to prove that PWCC is involved in the scam.
The Trimming photos were particularly compelling.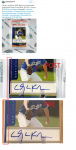 Where did the edge go?
I heard about this from Sports Card Radio.
http://www.sportscardradio.com/heroes-of-sport-card-trimming-group-break-scam/
Last edited: