Walmart stop on a whim and they had a very good selection. Picked up 2 Bowman Chrome Megas and 3 Optic Fat Packs. Chose the Fat Packs over Blasters or Megas, mostly since previously that has been all I could find. Turned out to be a great call.
3 Optics Fat Packs included 12 Rated Rookies (11 base and a monster) and 10 lime green prizms (stated 4 per pack but 2 packs only had 3) (edit: each pack had 4 as I looked past the Diamond Kings)
T-Minus 3.2.1: Frank Thomas and Alex Bregman
Mythical: Cal Ripken, Javier Baez, Francisco Lindor (prizm)
Lights Out: Justin Verlander
Diamond Kings: Pete Alonso, Nelson Cruz, Joey Votto, Whit Merrifield, Kyle Lewis
Prizms: Anthony Rizzo, Ramon Laureano
Green Stars Prizm #15: Luis Rodriguez
Bowman Mega boxes were bound to be a let down and then the rumored collation problems hit. First box had 2 packs with 4 of the 5 cards being identical. Same thing in the second box. Then a pack in the second box was identical to the first. Ugh. 10 packs led to 3 cards each of Luis Patino, Javier Baez, Bryan Reynolds, Juan Soto, Yady Molina, Spencer Howard, Keibert Ruiz, Geraldo Perdomo, Vlad Guerrero and dupes of Miguel Cabrera, Sam Huff, Alex Kirilloff. Just not good.
Best of the Mojo Refractors: Francisco Alvarez, Maximo Acosta, Alexander Mojica
Dawn of Glory Mojo Refractors: Yoelqui Cespedes, Llover Peguero
Blue Mojo Refractor: Jordan Walker
Mojo Refractor Auto: Jordan Walker
So after all the dupes within and between the boxes, the two best hits were the same player (one in each box). Not sure I'm going to open more Megas.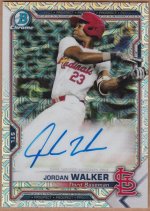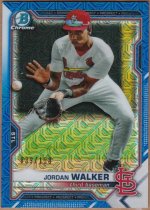 Last edited: