Just wanted to give you all a heads up- a seller on COMC (not me) has listed this morning what looks to be a complete set run of the 2014 Topps 1st Editions of which only 10 were made. He has the majority priced at $4.75, which is a steal considering the circumstances.
Curiously, for some reason, they are listed as Access Pass Redemptions, which is new terminology on these for me.
Got my guy and figured there are others who need their's as well.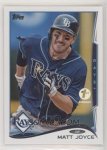 Thanks,
Jeff
Sent from my iPhone using
Freedom Card Board