Saw this Ichiro / Matsui / Ohtani 1/1 triple auto from this years Leaf ultimate sports release.
https://www.ebay.com/itm/2019-LEAF-ULTIMATE-SPORTS-TRIPLE-SIGNATURES-AUTOGRAPH-1-1-Ichiro-Matsui-Ohtani/223580173233?hash=item340e6ab3b1:g:5rkAAOSwFaldI-Df
The scan is a little fuzzy but the pic they used for Matsui looks like Kazuo Matsui. Not Hideki Matsui.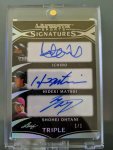 Reminded me of the bat barrel from a few years back where they got the Matsui's mixed up.