NFS NFT
OK, I went to the LCS Saturday afternoon to pick up a Topps series 2 Jumbo and get the two silver packs with the purchase. On the way home I decided to stop at Target to see if they restocked the Bowman Mega boxes. They had four so of course I bought them.
Probably my best rip day yet! Just the hits.
Jumbo box hits:
MLB Logo Golden Anniversary Manufactured Patch
Paul Goldschmidt 1:103
Major League Material Gold
15/50 Mike Trout 1:159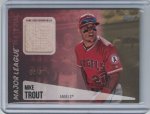 MLB Logo Golden Anniversary Manufactured Patch Auto
05/10 Jacob DeGrom 1:1287
Sketch card
Joey Votto 1:1985
Two Silver packs hit:
04/30 Paul Goldschmidt Auto
Four 2019 Bowman Mega box hits:
Ready for the Show
84/99 Austin Riley Green 1:159
Mega Box Base Auto
Greyson Jenista 1:16
Rookie of the Year Favorites Autographs
54/99 Kolby Allard 1:207
Chrome Mojo
08/25 Wander Franco Orange 1:126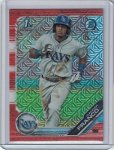 NFS NFT
I need to decide what I'm going to do with everything.