Hello Everyone,
Been thinking of starting this thread for a couple weeks now as my collecting has slowed considerably. I hope everyone has had a good year in the hobby and look forward to 2022.
I want to see how everyone has come along in their journey.
A new year is just around the corner, hopefully bringing better days with it. So, optimistically speaking, what are you hoping to accomplish over the next year in your collections? Here's my list. For my Alomar PC: 1) Reduce new card purchases even further. At current count there are 537...
I'll start
..
My 2021 Goals

1) I currently have 45 autos on my sweet spot needs list.
I'd love to get that into the 30's

using the list I based my 2021 goal off of, I have 34 left! Success!!
With the rise in the hobby over the last 12 months I'd say at last 6 are never going to happen.
2) Make a needs list of 2019 leather and lumber baseball skin autos RC and veteran that I need and plug away at that

RC signatures checklist is done!! I believe I have as many of the veterans I can get as nearly half the checklist wasn't even made to my knowledge.
Some examples:
3) pick up more 2020 absolute baseball leather autos as possible. RC and needed vets. About 43-ish
There weren't many veteran sigs I needed from 2020 Absolute but I finished that run, as well as the RC checklist with the exception of outstanding redemptions for a few including Luis Robert
A few examples
: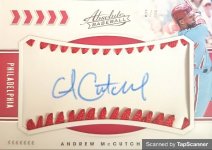 4) Continue on my run of Trout refractors/gold base, refractors and xfractors. bowman, topps and stadium club.
I narrowed my focus on Trout to Gold and a select few others that catch my eye. Here are a few pickups from this last year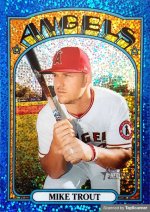 5) If things are slow on other fronts I hope to pick up a graded HOF RC or two. I wish big in an Aaron or Mays but would be just as happy with a Banks or Koufax
This came to an absolute halt. No pickups on this front or the foreseeable future
6) Continue on my quest for flawless non-auto Jumbo patches. 2017- current
Picked up a few, then sold the entire group a few months back. It was a great set but a few I was looking for kept getting ransom priced or shill bid and re-listed so I moved on


7) I'm open for surprises and learning of cards I didnt know existed.
I hope to have my credit cards and my house paid off as well. so we'll see how far I get with all of the above.

Ventured back into a few Griffey items, 2021 Absolute baseball skins (nearly complete) and Soto. Though those are few and far between. Credit cards are paid off and house is nearly there. I'd be done but I'm also remodeling as I go so I don't stay focused on the payoff but what I can do next.

Couple cards from the last year: