Ordered directly from Topps. Sometimes I actually get a decent box, but most of the time, it's pretty average. This one was a bit odd, but it worked in my favor. Out of the two mini boxes, I got a lot of doubles. A lot. I got doubles of DeGrom, Molina, Stott, Correa, Gore, Marsh, Freeman, Turner--and Julio Rodriguez. I got triples of Miggy Cabrera, Alek Thomas, and Jose Miranda. Speaking of Miranda, I also got purple/250 and teal/199 of Miranda. I think I got all the Twins available--Correa, Buxton, Ryan, Miranda and Lewis. Like, that never happens!
For my other inserts...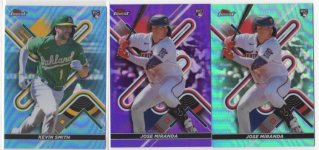 Also got base refractors of Blackmon, K. Hayes, and Nick Allen.
As for my autos, with my first one, I was not impressed...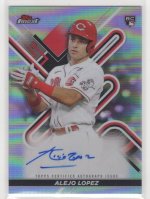 Yes, it's actually a bit smudged. Was hoping for better on the second one.
I got better.
#4/99.
So overall, I got a great box for me! All the Twins, some Miranda color, two J-Rods, and a Miggy auto.