Ordered via Fanatics--trying a different source. Pretty much same results! Early readings say the Blasters are pretty sparse for color and inserts. Missed out on Mega boxes at Fanatics, but may find one down the line.
Tale of the tape:
Refractors: Turing, Pasquantino, Arenado, Freeman, Longoria, Votto, Thompson, Yoshida (there we go!)
Prism refractors: K Clemens, Waters, Melendez
Pink: Alvarez, Yelich, Trout, Lowe, Giminez, Reynolds, LeNahieu, Bryant
Sepia: Peña, Gorman, Sosa, Rasmussen, Machado, Ruiz, Longoria, Lindor
Blue Sonar: Cal Raleigh #006/125
1988: Judge, Alonso, Moreno, Tovar, Cabrera, Morel, Casas, J Ramirez
Future Stars: Rutschman
Technicolor: Alvarez
Titans: Bichette, Rutschman Amazing insert. One of the best from Chrome in a long time.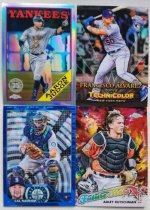 Sent from my SM-S908U using
Freedom Card Board mobile app