I wrote a version of this story last year right after it happened and I was still in Connecticut and when I went to post it, it was lost. I was too tired and frustrated to rewrite it, as I thought I crafted one hell of a story and I would not be able to recreate the magic, but still wanted to share eventually. This time I wrote it in word and transferred it to the forum. It is probably not as good as the lost original, but I hope you get some enjoyment out of it.
WARNING: This is a long read and there may only be 2 people on the site that really care at all to get through it, [MENTION=10970]Yanks2151[/MENTION] and myself.
This is a story about a hobby meeting over 20 years in the making and it involves Yanks2151 and myself. This particular part of the story begins around 1996 or so, but first I must take you back to 1978, the year it ALL began.
Our family moved into a new house in 1977 located on an island just West of Seattle called Bainbridge Island. We had left a lake front home that my older siblings certainly appreciated much more than I did, as I was only ages 3-8 while we lived there. I wish we still owned the place now, but that is another story. The old property was a bit larger and ran from the main road around the lake down to the water and so there were not as many neighbors, especially kids. This new neighborhood was just being developed and consisted of a long street with another side street branching off the middle of the first, like a "T". We were one of the first to move in and had the house on the first corner where the two streets intersected. Later on, our house would be the outfield wall that many wiffle ball HRs were launched against or over. It was more of a traditional suburban neighborhood with 1 acre lots side by side and as other houses were finished and sold, it turned out that a great number of families moving in had kids in my general age range. By summer, the neighborhood was filled with kids playing wiffle ball, football, tag or whatever else we could come up with to amuse ourselves.
One of the new families that had moved in not too long after us was from southern California. They had 2 boys and one was a year older than I was. We soon became good friends and that is when I was introduced to baseball cards. Steve was a big baseball fan and Steve Garvey and the Dodgers were his favorite. I can't recall, but I don't think I had ever been to a game yet and probably never watched one on TV. The Mariners were in their inaugural season that year, but I am fairly certain I was oblivious to this fact at the time. I mean I was only 8. Steve and his brother both had a small baseball card collection and showed them to me. Something about them just clicked with me. With very little prior knowledge about the sport, I nonetheless instantly became hooked and started spending any money I had on packs of cards. Those first packs I experienced were 1978 Topps baseball. I would go on to buy just about any card issue that the local grocery store sold in the following several years, from all other major sports (Basketball, Football, Hockey) to Movie cards (Star Wars, Jaws, Moonraker) to TV shows (Mork & Mindy, Hulk, Battlestar Galactica, etc) to anything else (Music, Stickers, etc). I also started to trade with friends and eventually would have limited opportunities to buy singles and packs from shops, so my collecting interest expanded to older cards as well.
Since I was not really a fan to begin with, I copied Steve and became a Dodger fan and a Steve Garvey fan. I would soon begin to take in Mariner games, several per year and really start to learn about the history of baseball and other sports as well. I ended up playing Little League and just because an all around sport fanatic. I loved everything sports.
I would continue to follow the game and collect trading cards up through High School and even a little while after, while I was away in the Navy. Eventually I just had no room to keep the cards and I was spending my very limited free time doing more adult things anyway, so cards took a back seat for the first time since 1978. It was now around 1988 or so and everything I had was packed away safely at home with my parents while I served.
Shortly before I was due to separate from the Navy in 1993, I went with a friend into town and he made a stop to pick up some baseball cards. I had no idea he collected and when we got back to the base, he showed me some of the stuff he had. I had been out of circulation only about 5 years, but things had really changed and it was exciting. The spark ignited and I began collecting again for the few months I had left in Hawaii with the Navy. I packed up all my things and returned home and took some time off before starting college. I had been saving money for the last several years, so I had a nice stash and spent most of my free time running around the area, visiting card shops, retail stores, shows and such. I started community college in 1994 and continued to spend time growing my collection, eventually getting a retail job to help support the habit.
When I transferred to the University in 1996, things changed forever. I discovered the internet, but more importantly, I discovered the online card marketplace that opened up so many more opportunities. There was so much good stuff to choose from that I never saw locally. There was Beckett, some other trading sites I don't recall and I even created a simple personal website for trading card collectors that advertised my collecting interests. Trades began to happen across the country and this is where we pick back with the story.
I don't recall exactly when, but one day I returned home from school and my mom said some guy had called for me regarding baseball cards and left his number. This didn't sound good at all. I enjoyed the simple process of emailing people and negotiating trades. I didn't need or want to talk to anyone about cards, besides my parents had trained me well in limiting my phone usage anyway. This was when you still paid by the minute for long distance calls and they were not cheap, especially before 7PM. My mom said he had found my name online and had ended up speaking to him for a good 20 minutes or so and learned that we had a few things in common and eventually talked me into calling him back, as I had originally planned to ignore the call.
So, I reluctantly called this guy back. I don't actually remember anything about that first call, but know now that he was living in Connecticut, was a Navy vet who was also stationed in Hawaii, liked American muscle cars and collected New York Yankee cards. Oh, and his name was Kevin. We eventually began talking back and forth, a little more frequently as we were sending trade packages to each other at the same time. He wanted Yankees and I wanted Dodgers. The thing that made this relationship work so well was that neither of us cared about the nitty gritty details of individual card values. Where as most online trades at that time were card for card counts or detailed values added up to the penny, as long as the trade packages were reasonably close in content to what the other sent, we were both happy. Best of all it was random and like opening a gift each time, at least for me. We continued to talk and trade, although the trading started to fade a bit over time. We were basically tapping each other out of Yankees and Dodgers, but we continued to talk. To this day, I credit him with introducing me to most, if not all of the current trade sites I use or did use like The Bench, Topps, FCB, Sportslots, etc. I also believe he convinced me to finally check out ebay in early 1998, after thinking Beckett marketplace was good enough for my needs for quite a while. He probably sent he to COMC too! He was very active in finding new people to trade with and I was more stuck in my ways with the old and familiar. I honestly don't know where I might be in the hobby world today, had Kevin not called me that one day in 1996.
If you are still reading at this point, we now jump ahead to 2018 and the big meet. Kevin and I have become good friends who talk on the phone fairly frequently. Now it is not just about cards, but other things. Our jobs, our families, life in general. We have been talking and trading for over 20 years by this time, but we have never actually met in person. Numerous times, he shared with me about trips made where he would drive right by Cooperstown, NY. I half-joked several times that we needed to meet up some day and visit Cooperstown. After all, it is the mecca of all baseball fans. I had never been and really wanted to see it at least once in my life.
A passing comment over the phone looked like it might finally become a reality, when I found out I was going to Hartford, CT for work in July of 2018. I would be there for a full work week and if I planned it right, there would be some free time on either end of the trip as well. My company was paying my way, so what better time than to try to do this Cooperstown dream? I called Kevin a few months before the trip and gave him the details. As the trip grew closer, we hashed out plans to hang out for a few days, possibly more. I had one other thing pop up that just happened to coincide with that trip, a former Navy buddy was retiring after 30 years the Friday before my business trip. That was happening in Groton, CT. Close enough from my hotel to drive, I said I would be there for that as well. What a trip this was going to be for me. I have never been so eager to take a business trip before.
I flew in to Hartford late Thursday after the 4th of July. The retirement ceremony was Friday the 6th and then Kevin and I were planning to hit Cooperstown Saturday. I rented a car only for Friday's trip to Groton, then I would be relying on Kevin for any transportation during our time together and thankfully he lived only about an hour away from where I was staying. Everything went well in Groton Friday and Kevin planned to meet me that evening and we were going to grab dinner and maybe catch a minor league ball game. He came by my hotel and a meeting that was over 20 years in the making finally happened on July 6, 2018. After we got past the slight awkwardness of meeting someone for the first time that you have been talking to for 20+ years, we returned my rental and hit the town to grab some dinner before the ballgame. As it turned out, parking was a ***** and I was pretty tired from the late flight/long & early drive to Groton so we never made the game, but enjoyed some pretty tasty pizza from Frank Pepe, a local favorite.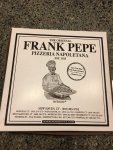 The next morning he picked me up and we headed towards Cooperstown. It was about a 3 hour trip, but it was not bad. We talked like we have been doing for years to easily pass the drive time and before we knew it we rolled into town a little before lunch time. We parked near the ballpark and walked to the museum. We'd get the tour out of the way, then check out the shops and the town. The museum and town were great. It was not super crowded yet, but the inauguration was later that month, so I'm sure it got crazy later on. We walked from one end of the main street to the other and then down to the lake. We decided to scope out the town and scenery, grab some lunch and then hit the card stores. If any of you have been to Cooperstown, you know the stores are mostly aimed at tourists, although some had better selections that true collectors would appreciate. Kevin was on a break from cards at the time and although he checked everything out with me, I don't think he left that day with anything from any of the shops. He did comment that he wanted to see me find a Steve Garvey card I did not have to make the trip all that more memorable. I figured that was a pretty tall order, especially from a place so commercial and widely visited as Cooperstown. I didn't have high hopes.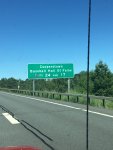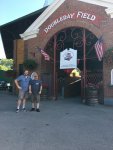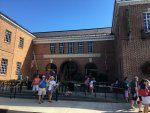 Most of the shops were fairly disappointing to me. I like unique stuff and I like bargains. There was an endless supply of HOF cards and autographs and the steep prices to go with them, but not a whole lot else. I did enjoy Yastrzemski's and spent a few bucks there on some neat bargains, but my hands down favorite was Baseball Nostalgia. This was the first (and last) shop we saw, as it is located adjacent to the ballpark parking lot. Likely one of the older shops there (Established 1974 I think it said) and an obvious connection to the old TCMA gang, this is a shop after my own heart. It was loaded with oddball stuff and cram packed with stuff in general. I felt like I got an eye on a good majority of it, but would have loved the opportunity to go several times over a period of time.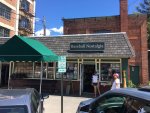 Not wanting to haul a bunch of stuff home on the plane, I was mainly looking for anything that I might not be able to get elsewhere. A hidden treasure that nobody else had yet uncovered, hidden away in a shop that is the way they used to be and still should be today. Nearing the end of our day, I stumbled upon a box of error/wrong backs. I started sorting through I and found a number of 1979 Topps front/1978 Topps backs. Most of the cards were listed at a buck each, so I grabbed a few Dodgers and star players and struck gold when I flipped over a 1979T Dave Radar card to find a 1978 T Steve Garvey back! I did not have this card and it was only a buck too. I caught Kevin's attention and showed him my find. It was a perfect way to cap a very nice trip.
We drove back to CT and decided that we would hit the Basketball HOF in Springfield, MA the following day. It was only about 20-30 minutes from my hotel and a must see for any sports fan. I only wish my boys could have joined us, as both are big NBA fans themselves. The NBA trip was not as exciting, only because I am more a baseball fan and I have dreamed about Cooperstown since I was a kid. The NBA, NFL and NHL Hall of Fames would always be an afterthought, but now I can say I am 50% there.
Attached are a few photos to commemorate the event. I hope you enjoyed the story.