Just working out how to use my new scanner with a new graphics program, I figured this is a good time to show off my George Springer collection to highlight his first All-Star Game starter selection. I had my eye on George for a long time, and picked up a few things here and there. After being a completist Grady Sizemore collector for 15 years that I couldn't do that again, so I kept looking for quality over quantity. I accelerated a few years ago, and especially after the Astros won the Series. I've been able to add quite a few neat things, and look forward to more as his star continues to rise.
2013 Panini Collegiate Team USA Patch #/8 (with a lot of dirt)
2014 Panini Flawless Rainbow #/20, #/5, 1/1
2014 Bowman Sterling Atomic Refractor 1/1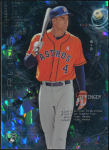 2015 Topps Allen & Ginter Patch/Auto Booklet #/10
2015 Topps Allen & Ginter Metal Mini #/3
2015 Topps Heritage Black Refractor #/66
2015 Topps Stadium Club Crystal Ball #/30 (really cool in person)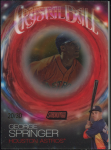 2016 Topps Heritage Punch-Out Patch/Auto Boxtopper #/10
2016 Topps Chrome Future Stars Superfractor 1/1
2016 Topps Metal Frame #/16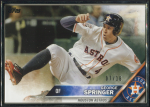 2017 Topps Allen & Ginter Metal Mini #/3 and Wood Mini 1/1
2017 Topps Heritage Clubhouse Collection Patch Auto #/25
2018 Topps World Series Collection Patch 1/1
2018 Topps Finest Red Refractor #/5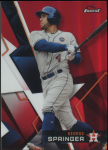 2018 Topps Triple Threads ASG Sleeve Patch 1/1
2019 Topps Heritage Black Refractor #/70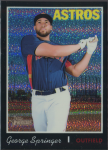 2019 Topps Museum Wood Frame Autograph 1/1
I've got a few more but scanning is my very least favorite non-biological thing to do, so I'll pick it up later. Anyway, enjoy.
Last edited: