At the Industry Summitt folks figured I'd recap some highlights for those unable to make or see what's going on
For those unable to make the Industry Summitt figured I'd show some pictures off. Located at teh Westgate Hotel & Casino in Vegas.
Day 2 of the Summitt . Day 1 nothing more than standard check in and meet and greet some faces. Golf gods didn't look down on me had to work before the Summit so couldn't get there in time to attend the golf outing. I did however get there to see some set up pre-show and to meet some faces
First few faces I saw wouldn't meen anything to anyone who doesn't know them ( Jeromy Murrays and Ted Barkers wives). Next face I saw was someone I actually wanted to talk shop== Beckett Price Guide Analyst Brian Fleischer. Brians been around Beckett since 2003 and it was great to finally put a face to a name.Great guy and just the dorky looking OPG specialist you'd expect. Wanted to NOT put his pic up ---yet -- until I got his OK first. I'm like that folks-- I ask permission. If you have OPG baseball issues email me I'll have him look at them when we are free.
A few others were met and greeted ( Eric from Fat Packs) and a bunch of other guys I know but don't care to meet-- or greet for that matter. The GTS distribution group were there and that's a rowdy group in and of itself. Lots of noise coming out of that lounge area pre-show-men and woman.
Most people were just checking in and the early check ins were golfing. Work prevented me from doing so.
Panini had NO ONE in its lounge or maybe they were at the tournament same with ebay whose lounge was closed. Got some pictures pre-set up. Met the Tri-star folks as well. I'll talk and see if I can get her approval first for pictures. Same with the ladies handling registration.
Pardon pic size I don't have my imaging software handy to correct them . They were actually gigantic when I first posted had to modify pic quality
GREETING AREA GREETING SUMMITT PARTICIPANTS- MAIN ROOM
,
,
,
,
,
,
,
EBAY PRIVATE LOUNGE AREA--- CLOSED
,,
,
,
,
,
,
,
,
,
,
,
PANINI LOUNGE AREA == SOON AFTER PIC WAS TAKEN A FEW GUYS PLAYED PING PONG
MUSTA MOVED THE CAMERA TO MAKE WAY FOR THEM. THEY WERE NOT WITH PANINI JUST USING THAT TABLE
,
,
,
,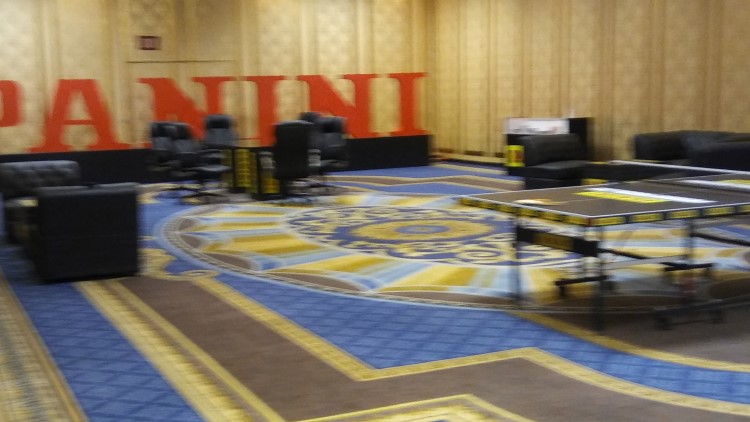 ,
,
,
,
,
,
I'll get more uploaded of the main area when I can doing some work on the side while these pics are worked on
If you there- I'll be slightly hard to locate. I blend in and trust me my name badge is ALWAYS backwards.
If you care to meet- send me an email I'll reply where I am. The usual
[email protected]
Look for a balding old man built like a fire hydrant with black short hair like cops wear- that's me
Last edited: