Jeez it's like practically everything that was in the mail arrived today: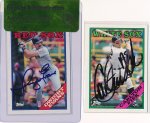 A couple of nice additions to the 1988 Topps autographed set. Four more and I'll be under 50 to go.
Pretty good mailday when a Josh Donaldson Bowman Chrome Orange Refractor RC isn't the main event. The Zito auto is /25, he was in a few different Topps sets in 2020 and I've picked up some tough ones but am still missing a lot. The Crosby is a Mirror Emerald 1/5. The McGwire I think is one of those Fractal Matrix cards where the regular one is tougher than the Die-Cut...in any event I don't have the regular one.
BORING.
NOT SO BORING. Got these for $5 each, which seems like a decent deal for the Bazooka Backs. I wish they just would have stuck with this style instead of transitioning to the Brooklyn Backs. I prefer gum to Brooklyn.
And I finally joined the Red Crusade club:
I don't really care about it being a PSA 10 myself but it does make it more worth more if I ever decided to sell it. After finally getting one of these in hand, I'm going to be blasphemous and say the Greens and Purples look better. The red color isn't as vibrant as some of the really best red refractors. Still a beautiful card, though. Early frontrunner for my 2021 pickup of the year!