So I went to the Fan Fest in Minneapolis Friday, Saturday and Sunday. I always love going to Fanfests. Lots of things for families and kids, but I always love getting autos. Some appearances were not with an auto, but most were. They were good about having a large photo ready, especially at the AT&T booth. Pizza Hut's were small 5x7s, but I always like coming prepared with a card if I can. Basketballs are harder to display (and carry around all day) so I'm not a fan. But my wife wanted one with the Final Four logo on so we got one and added a few autos on.
With the coach's conference going on, they had a lot of coaches there.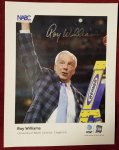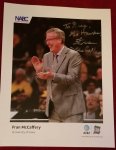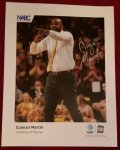 Also nice to have Duke grad/analyst Jay Bilas there.
Former players...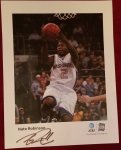 So I had cards for a few players. Hill signed twice today, so I got the photo in the AM, and the card in the afternoon.
Other coaches--the Allen and Ginter cards should catch a few eyes!
Vitale wasn't too worried about signing on his own face!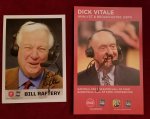 And a few other photo ops from the weekend.
The Chuxsedo!
Janet and Roy Williams. No selfies!
Other times, you definitely were encouraged to get a photo.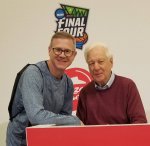 Ready for a good game tomorrow night!
I need to get some other pics from Janet's phone, so I will add more later.
Sent from my SM-N950U using
Freedom Card Board mobile app