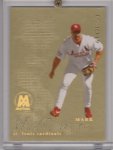 Never had seen this version before I had a Kevin Garnett basketball version out of I believe /40 a few years ago. These are all out of /50 and the only recent sales I've seen was a psa 10 Jeter go for pretty high dollar on a non ebay auction
I guess these all came from the 1999 national and I bought yesterday the McGwire, Sosa, Bagwell, Bernie, Mo Vaughn, Erstad, Burnett and Jeremy Giambi. The Mo Vaughn was cool it was #42/50 his jersey number

Already sold the Bagwell and Bernie Williams last night and basically already made my money back

Any one else ever sell these or collect them?
Last edited: