Featured Contributor, Bridging the Gap, Senior Mem
Have you ever been in this situation before?
You go on a collecting "purge" to move things you aren't in love with, only to find out you wished you never sold one or two of the pieces in the first place. That's what happened to me when I gave up what I now consider to be the ULTIMATE Bash Brothers baseball card.
A little background ...
As you probably know, Canseco & McGwire made waves during the 80s and early 90s as the premiere slugging teammates. Depending upon what your favorite team was, they were either superheroes or supervillains, and captured the imaginations of all baseball fans - so much so that they still have a strong fan base decades later, in spite of the steroid controversy. There are very few combos out there that received as much national fanfare as Canseco & McGwire. They had THE BASH - everyone was doing it in little league back then!
I was thrilled to be able to partake as an adult
(back story - I did it wrong. Jose had to reposition my arm, LOL!)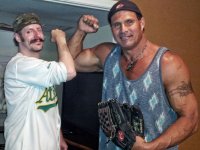 The Bash Brothers are also the reason for the coolest poster ever created.
In spite of the fact that they were larger than life, it may surprise people that there are very few cards during their playing days that feature Canseco & McGwire alone together...none of which mention "Bash Brothers". (1989 Fleer had a card of them together, but also with Steinbach ... it makes mention of "Bash Brothers" on the back).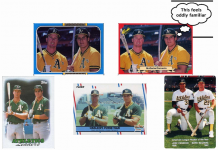 There are a couple other oddball cards created of them as well, but as far as mainstream offerings go, this is it!
Far and away, my absolute favorite is the Mother's Cookies issue. It is borderless, cornerless, and features crisp, glossy photography that just *feels* like Spring Training. They are, dare I say, fresh to death. I have many fond memories of hunting countless bags of Mother's Cookies with my dad as a kid. I think they are the most underrated cards of the 80s.
When Jose Canseco's (and my) friend Carlos got ahold of a nice collection of Mother's Cookies cards directly from Wayne Bebb (the man responsible for the creation of Mother's Cookies cards) he had my attention. Within this collection were a small number of Mother's Cookies cards of the Bash Brothers that were all beautifully signed in blue ink vertically.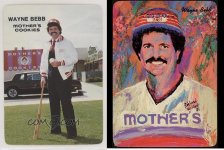 It took me a while to get over the fact that it wasn't "pack pulled" - I seriously suffered from the stigma that IP autos were lesser than pack pulled for a while for some reason.
I ended up buying one and loved it, but ultimately parted with it, as I didn't feel it fitted in nicely with my collection.
Months later, Leaf came out with the first dual auto card that wasn't a booklet for the Bash Brothers - the autographs were on sticker - the only way it probably would have worked out, since McGwire refuses to sign things with Jose on it. The Leaf offering had 12 flavors - ALL 12 of which were 1/1s.
If I recall correctly, the only other pack released dual auto of theirs is from 2015 National Treasures - a booklet. Again, not on card, but rather on clear plastic slides. Numbered to /5, the copies released actually had McGwire's signature placed backwards ...
They also made a parallel of this with patches #/5 as well - I'm a patch lover first, so this instantly appealed to me:

Then I started thinking ... what if I could combine the two, without harming the dual patch booklet? Surely Panini has made several higher numbered cards of each guy with their signatures on clear plastic!
I was right.
About $50-75 later, I had the material I needed...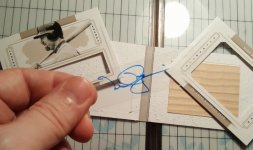 ... and carefully inserted these signatures over the patches in this booklet to make the best of both worlds:
I have since made a few other booklet style card customs of the Bash Brothers, but still, something is missing - something that can't be recaptured - not by me, and not by any of the card companies.
The allure of the Mother's Cookies dual signature card captivated me more than it had when I first owned one. Not only is it from the time of their playing careers, it is the best looking (imo) card of them together during this time period, was signed during their playing careers - well before their feud, and on card. On card means a lot to me in this instance - it means each player actually held the card itself at some point! Let's not forget provenance - being from the collection of the very person who created them.
Card companies can (and will) continue to make cards featuring the Bash Brothers, though likely not on card dual autos, unless Big Mac changes his mind. Even still, the Mother's Cookies signed card feels more "authentic". There is no serial number, nor was it born of manufactured scarcity. Heck, I remember going to a baseball game where they would offer Mother's Cookies team set packs - each pack would intentionally have 7 or so doubles of one guy, and would be missing just as many - to encourage trading with the people around you. Absolutely perfect. It was everything that was right about our hobby.
I decided to seek out one of these elusive dual auto Mothers Cookies Bash Brother cards from Bebb's collection again, and I struck gold. It was graded by PSA. I'm known to crack PSA slabs for my Canseco collection ...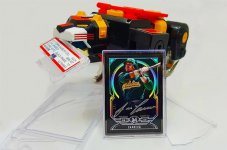 But not this one. Here it is - a true gem in my collection. Something that, after thinking about it long enough, I have deemed as the ultimate (to me) Bash Brothers card! It captures both the true essence of the Bash Brothers during their heyday, and the hobby from a simpler time. Plus, both guys likely signed while they were at the top of their game.
I don't typically collect IP autos of Canseco, so this is definitely the odd one out in my collection. It isn't displayed with my other cards, but rather, here with my bobble head, my game used/team signed 1989 World Series baseball, a 1989 World Series pin from my childhood (I used to wear it proudly on my A's cap as a kid, and the signed & game used indy league glove I traded Canseco for.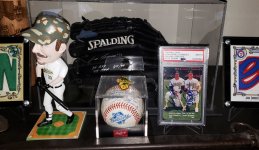 It's funny how it may take you losing a card to truly appreciate it for what it is when it is gone. A card I previously didn't deem worthy of my collection is now proudly and prominently displayed as one of my favorites!
Have you ever circled back on a card that meant a TON more to you the second time around?