Three additions since the last update.
2019 Topps Archives Signature Series 2013 Topps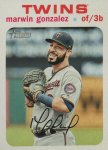 2020 Topps Heritage White
2020 Topps Transcendent VIP Advanced Stats
I can confirm that one of the 1/1 cards is the base card and the other is the Advanced Stats version. I also now realize that the Transcendent stamp is on opposite sides of the two cards.