Sorry for the long read…
So last year, my son attended Reach Cyber Charter School for Kindergarten…Covid and all that…not gunna get into it…but they have an affiliation with the IronPigs. We entered him in a raffle to win the chance to throw out the first pitch at an IronPigs game. He was picked, and my wife picked a game vs the Syracuse Mets…for obvious reasons.
The IronPigs were rebranded for the night as the IronWeiners…and yes, it was as funny as it sounds. Named after the dog by the way…so I left work at 5, drove to the inlaws and showered quick, meeting my wife and son and picking up her father too. We got to the game, and got our IronWeiner bucket hats!
Then we had to go to guest services and get my son his AllStar kid of the game shirt and then off to the first pitches line. We kinda timed it perfectly, cuz as we got on the back of the line, they started taking us down to the field. Since he was the AllStar kid of the game my son got to throw out the first first pitch.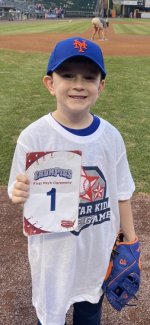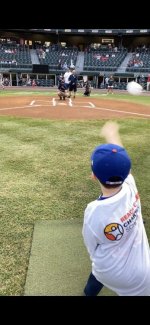 It was a bit short and Bob Uecker would say, juuuuust a bit outside, but he loved being able to do it. Everyone else threw their pitches and they told us to stay on the field as they escorted everyone else off. The mascot snuck up from behind and hammed it up with Logan for a bit
Then they announced him and showed him on the Jumbotron.
He waved to the crowd for a bit on camera and then his festivities were over and they escorted us off the field. I asked if I could stay on where the Mets were practicing and get some autographs and was kindly told, no way. I thought we were the AllStar kid? Where are my perks? Lol. While my wife and her father went to the seats my son and I stayed down below to try to get autographs from the stands. Luckily the guy I stood next to decided he was done and gave us his prime spot.
Sent from my iPhone using
Freedom Card Board mobile app