In years past, this was great time to get together, swap a few cards, check each other's needs, have a drink beforehand, and have a great time. Times change, people come and go, collecting focus changes.
So without any pre-get together, I went, eventually met up with [MENTION=1953]Musial Collector[/MENTION] on Friday night, went alone on Saturday. Typically, my wife comes with me and we're able to split up and hit more lines efficiently. For being on my own, I did alright.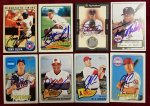 The poster of Mauer was a giveaway on entering. No idea how many were printed/handed out each day. Saw some auto'ed by Joe. I got the artist's sig at the Fan HQ table.
Funny thing about getting two by Royce Lewis. I got one Friday night, and had forgotten about it, so had him sign one on Saturday, even though I had planned on Kirilloff on a ball. But two Lewis balls is not so bad.
Kirilloff was a free auto all weekend and his line was always huge. Everyone knows this kid is a stud! Had an 8x10 ready for Kaat, but went with a ball instead. Very pleased with how the Topps Now cards came out. No bleeding at all. Wont really be able to complete the set with those gone (Santana, Escobar, Dozier, etc.) but encouraged to have other Topps Now cards signed.
Anyone else have autos to share?
Sent from my SM-N950U using
Freedom Card Board mobile app