Ordered via Topps. They had a real short window before they sold out onsite. I suppose these will be "available" at Wal-Mart, if you can find them. I haven't been to Wally's for a long time to look for cards, but special stuff like this always seems to never make it to the floor.
Anyway, fun break, just a bit short of a full set from two boxes, but I like the chase of SPs and parallels. Did not get anything rare, but good to get the big name rookies and a couple good variations. The box topper ornaments were nice too.
First, let's play spot the difference...
Nice to get a Wander GU...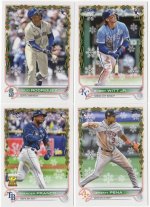 Liked getting Soto and Abrams updates. Lindor was my favorite Metallic parallel. Also got Swanson, Riley, India, Urshella, Mountcastle and a few others.
And my box toppers...
Merry Christmas!