Several weeks back, a friend had sent me an assortment of baseball goodies. I met him through ebay originally, as a customer. After some frequent buying and some message conversations over several months, I decided to reach out to him about a possible meeting. We were going to be vacationing/passing through where he lived and although I didn't feel as though I "knew" him well enough, I suggested a meet and he agreed. It was rather short, at the end of our vacation, but we sat down for coffee and we talked for close to an hour. My kids were bored out of their minds, but he is quite a storyteller and my wife and I were entertained. Anyway, I continue to buy from him periodically and we now chat a bit more via text and messenger. This package he sent was just a complete random selection of mostly flat stuff, all baseball related. Not all of it was in my wheelhouse, but quite a few pieces definitely were. I set them in a pile and have been doing a bit of organizing and just came back upon them and decided I needed to share one of the items.
As best I can tell, this is from 1993. The copyright is 1993. The stats are from 1991, although both players featured continued to play at least the following year (Blyleven) and beyond (Fielder). Mike Piazza is on the "cover" of what looked like a folded brochure or book type item. I am not sure what to think of it all and unfortunately, there is scotch tape on the Piazza that forms sort of an "envelope" or "pack" with the cards and instructions placed inside through the opening on the top. There was nothing more than what you see. My guess is that this was some sort of product that they (Steve Bergman & Bert Blyleven) were trying to market, perhaps to get licensing approval or maybe even for financial backers? It's all speculation, as I have no idea what I have and the only clues are what I can see.
First is the "envelope" previously described. Mike Piazza is on the front. On the back is a picture of a guy in a tie shaking hands with a much more comfortably dressed Blyleven. There are a few things blacked out. It is taped and I suspect this may have been how my friend received it. Maybe this was how it was assembled to give out. Seems kind of low budget, especially if someone was trying to impress with their product, but again, who knows?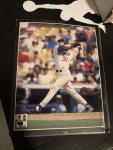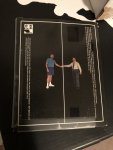 Next is the instruction sheet. It is a cheap reproduction that is hard to read and poorly cut. Clearly this is just to show that each "pack" will come with an instruction insert (hopefully of better quality).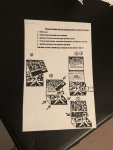 Finally, we have 2 sample cards. One is Cecil Fielder of the Detroit Tigers. The 2nd is Bert Blyleven, who was clearly involved in this adventure somehow and by 1993 had retired as an active player. He is shown with the California Angels, the team he ended his career with in 1992. The front have poor images of both players, where it looks as though they were chosen so as not to reveal any MLB logos. The backs are generic, showing a crowd in the stands and the player name and team listed, by nickname only, no Cities. Again, something has been blacked out, possibly the name of the product or the sponsor/owner name.
The two cards open up to reveal an action photo of each player and some stats. This is the pop-up part. Once more something is blacked out on the copyright line. If you look closely and pay attention, you will see that the stats are fictional, unless you actually believe Fielder hit 133 HRs and Blyleven won 162 games in 1991! There may be additional errors to the stats, but I didn't check to confirm both men were 6'3", but I can say that Blyleven was not drafted in 1978 by Pittsburgh either.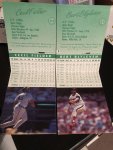 Aside from an early Piazza appearance (which has been affected by the tape), the subjects are not the most widely collected, but I have never seen anything like this before. Maybe multiples were made, maybe these are the only copies. Unless someone has seen these elsewhere, we may never know. I think if other players were known to exist such as Griffey, Bonds, Thomas and the likes, these could be on par with some of the other ultra rare/desirable 90s insert/promo/preproduction type pieces.
Has anyone else ever seen similar items or even different players of the same design? Would love to know more.
Just before I posted this, I did some digging. I think I found THE Steve Bergman and have reached out to him. Hopefully he responds and has some info to share!