Over the past 7 years I've acquired a small UD Mystery Cuts collection, picking up cards either with personal significance and/or were just "cool". This week I received my 5th cut and wanted to show them in hopes others might also share. Here we go!
Vic Morrow
: I'm a huge
Twilight Zone
fan and Morrow is infamously remembered for being killed while filming a scene for
Twilight Zone: The Movie
in 1982.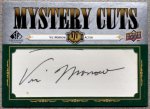 Bing Crosby
: His
White Christmas
album is by far my favorite of the season, being played by my Dad non-stop growing up.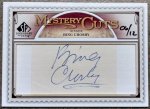 Charlton Heston
: A great actor that appeared in some of my favorite movies, including
Planet of the Apes
,
Soylent Green
,
The Omega Man
and
Touch of Evil
.
Michael Hutchence
: The lead singer of INXS that passed away in 1997 at the age of 37. "Never Tear Us Apart" is one of my all-time favorite songs and I was thrilled to find this card, despite the last name being misspelled (thanks, Upper Deck).
Jack Dempsey
: A great looking cut of the World Heavyweight Champion from 1919 to 1926. I enjoy being able to read some of the words on the other side of the paper identifying it as some kind of bus manifest form.