Landing a Pujols auto in a Dodger uniform was a big goal of mine when I heard they signed him. I flat out don't like to drop big $ on active players, because most of them drop in value over time. Clearly Pujols will go down as one of the greatest hitters of all time though. I ended up buying not one, but 2 Panini cards. However, my goal was to get an actual licensed card. When the Heritage cards started showing up, I was excited...until I saw the ending prices!
However, something stands out on these and some of his other autographs. He either has a couple signing styles or something is fishy. Check out these certified autos and tell me what you think.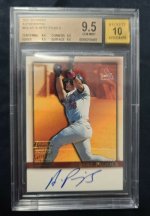 I ended up showing 3 examples of the pointed "A", but there seems to be so many more of that type. I question why someone would sign with a rounded "A" in some signatures, and a pointed "A" in others. The rounded A signature looks very deliberate and almost child-like, where as the pointed signatures look hurried. The 72 Heritage is last year, where the 73 is this tear. The rookie era signature is also pointed. I'd like to trust that a certified auto is legit, but there have been issues in the past.